Ryan Bader betting big on himself as he enters the last fight on his UFC contract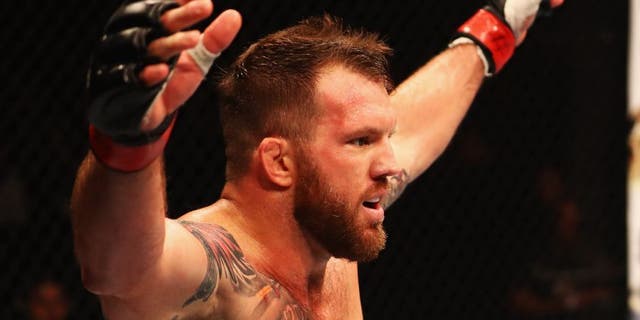 When Ryan Bader walks into the Octagon on Saturday night for his main event bout against Antonio Rogerio Nogueira, he will do so on the final fight of his current contract with the UFC.
Bader has spent almost his entire professional career with the UFC after first debuting on "The Ultimate Fighter" back in season eight and he's been a stalwart of the light heavyweight division ever since.
The decision to fight out his current contract wasn't exactly a power play according to Bader, but instead just a chance to bet on himself to get a big win in a main event and position himself to cash in on a new deal afterwards.
"For me it was just one of those things where it was kind of like why not? Why not fight this last fight on my deal and see where we go from there. That doesn't necessarily mean I'm leaving or anything like that. It's just one of those things, it comes down to why not? We've got this fight and I'm going to fight it out and see where we go from here," Bader told FOX Sports.
"I have no plans on going elsewhere or really I have no plans as of right now. We're going to see where we go from there."
Bader isn't the first competitor to fight out a current contract while hoping to score an even better deal in the future. According to Bader, the UFC did offer him a new contract prior to this bout with Nogueira, but he felt it was a better option to take the last fight on his current deal and then roll the dice.
At 33 with more than 25 fights on his record, Bader knows his next contract will help to cement his future and with a wife and kids at home, he's worrying about more these days than just the opponent standing in front of him.
Bader is thinking about long term plans and that has to come attached with a monetary value. As a perennial top 10 fighter at 205 pounds throughout his UFC career, Bader knows what he's worth and he hopes to prove that with a dominant victory in a main event against Nogueira in Brazil.
"You do have to bet on yourself," Bader said. "I'm not using this as a pawn or a tool but it's just one of those things that came up. We were offered to sign a new deal and it was just one of those things where it's like we're going to fight this out and see what happens. There really was no sitting back and playing chess here at all."
Bader promises that his decision to fight out his current deal with the UFC isn't a ploy to get offers from other promotions, but rather just getting the best possible contract for himself and his family.
Of course, Bader will admit that he took a financial hit when the UFC inked an exclusive clothing deal with Reebok, that took away the ability of fighters to wear sponsors on their gear inside the Octagon. At the same time, Bader knows the best competition remains in the UFC's light heavyweight division and wins over those fighters will ultimately end with a lot more money in his pockets.
"It's one of those things where we got the contract and looked at it and we'll fight this out and just see where we go from here. It's not like I'm fighting this out so I can go run to Bellator or anything like that. I do enjoy fighting in the UFC and I do believe those guys the best in the world and I'm one of them. I've basically fought my whole career there," Bader explained.
"There's some changes in the UFC, the whole Reebok thing and I was one of those guys that got a lot of money from sponsors and what not. At the end of the day, you've got to do what's best for you and we'll see what that is. There's definitely reasons to stay in the UFC for sure. But at the same time, like I was saying, when that time comes we've just got to re-evaluate everything and kind of see where we want to go. Why not go out and make a statement with your fight and have a little more bargaining power? That's kind of where I'm at but there wasn't really any kind of play behind it."
To make that statement before entering free agency, Bader has to get through Nogueira for a second time. Bader defeated the former PRIDE competitor in 2010 by unanimous decision in a fairly lopsided fight and that was at a time when he was still very much a novice in the sport.
So why take a rematch with Nogueira six years later?
"I do think I can do it better," Bader said about his performance with Nogueira. "I think I'm going to go out there and push to stop him and get a finish and get two finishes in a row. He's a legend and I respect him and his brother. I was on his brother's "Ultimate Fighter" team and loved that guy. Still owe a lot to him and his coaching staff.
"It's one of those things where I feel since the last time we fought, I've grown leaps and bounds."
Assuming Bader gets a victory, he will then sit back down with his team and make a decision on what the next best course of action will be. There are plenty of options available and that's why Bader ultimately decided to fight out his contract and then see what he's worth when Saturday night is finished.
"You've got to look out for yourself," Bader said "When that time comes when we're done with this fight and we re-evaluate, I'll sit down with my team and just kind of say 'where do we go from here?'."