Rugby legend Lomu, youngest All Black in history, dead at 40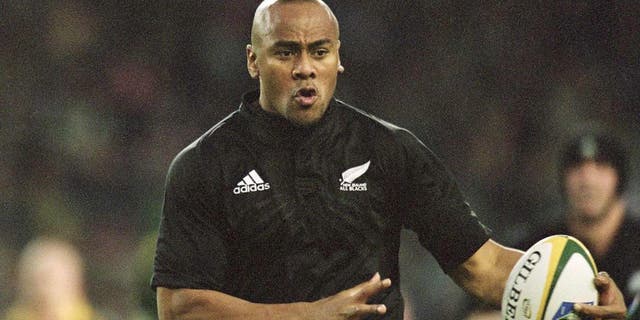 WELLINGTON, New Zealand
More by instinct than choice and off balance after fending off two desperate defenders, Jonah Lomu barreled straight over the top of a crouching Mike Catt, leaving the battered England fullback sprawling on his back as the All Black sprinted to the try line.
It was the first of Lomu's four tries in New Zealand's 1995 Rugby World Cup semifinal win over England, a performance that confirmed his burgeoning reputation as a virtually unstoppable ball-runner with a sprinter's pace and launched him to international fame.
He made it look like it man against boys -- after all, he was the size of a front row forward but had the speed of a sprint champion.
Lomu, whose kidney illness extinguished his meteoric All Blacks career, died suddenly at his home in Auckland on Wednesday. He was 40.
Nadene Lomu, the wife and manager of the rugby great, confirmed Lomu's death in a statement Wednesday. Lomu had struggled with a kidney illness for 20 years but former All Blacks doctor and family friend John Mayhew said the cause of death was cardiac arrest.
"It is with great sadness that I must announce my dear husband Jonah Lomu died (overnight)," Nadene Lomu said. "This is a devastating loss for our family and may I ask that our privacy, especially the privacy of our two very young boys, be respected as we take them through this traumatic time."
New Zealand Rugby chief executive Steve Tew said "Jonah was a legend of our game and loved by his many fans both here and around the world."
The son of immigrants from Tonga, humble off the pitch, was at his devastating best at the 1995 and 1999 World Cups, scoring 15 tries in 11 games but never winning the trophy.
The stabbing death of a friend steered Lomu away from street gangs in the blue-collar suburbs of Auckland, New Zealand's largest city, where he grew up.
Rugby gave him new direction. He channeled anger he felt about his father into the sport. Aged just 19 for the first of his 63 tests, he was a physical colossus for a winger -- 1.96 meters tall (6-foot-4); 119 kilograms (262 pounds) -- and quite terrifying when pounding through defensive lines at speed.
Nephrotic syndrome, a degenerative kidney illness, curtailed his career at his peak. Lomu tried making a comeback after a 2004 transplant but was forced to abandon hopes of playing the 2007 World Cup. He played his last match in 2006.
At the height of his career, Lomu had the ear of Nelson Mandela, charmed Hollywood comedian Robin Williams -- who wore an All Blacks cap and called him "mate" -- and visited parliaments and palaces.
His father, Semisi Lomu, was a factory worker, devoutly religious and a harsh disciplinarian. His mother, Hepi, held together the family living on a shoestring and acted as a buffer between father and son.
"At times he was the best dad that he could be," Lomu said in a 2013 interview. "It was just when he drank, that's when me and him disagreed. He was quite violent when he was drunk.
"Mum was always there to protect the kids. And when Dad got angry and wanted to bash us, she would get in the way. It builds up a lot of things inside of me."
At age 1, Lomu was sent to Tonga to be raised by an aunt who, for the next five years, he thought of as his mother. On return to New Zealand, Lomu rebelled against the strict father, leading to their eventual estrangement, and he gravitated toward the streets.
"It made me battle-hardened for rugby," he said. "When I was playing, when I found it hard, I just thought of my father and that got me through it."
After the stabbing death of his friend, Lomu found new direction at Auckland's Wesley College, a famous nursery of Polynesia rugby talent. There, he first showed the devastating combination of strength fused with speed. Playing out on the wing, with time and space to hit his stride, he crashed through or cruised around opponents.
He played for New Zealand's under-19 team and starred in rugby sevens before his international debut in June 1994 as the youngest-ever All Black, aged 19 years, 45 days. He became a formidable scoring weapon after mastering the technique of test rugby, scoring 37 test tries.
Selected to the All Blacks squad after an injury to John Timu, Lomu burst to international fame at that 1995 World Cup in South Africa. He scored seven tries in five matches, including the four over England.
But by then he also knew he was sick. He missed tests against South Africa in 1996 and almost all of the 1997 season.
In 1998, he won a rugby sevens gold medal at the Commonwealth Games. At the 1999 World Cup, he scored eight tries in six games, including two in New Zealand's semifinal loss to France.
Lomu remained an All Black until 2002, but his health faded. He required dialysis three times a week. After his kidney transplant, he played with New Zealand's North Harbour province and, with moderate success, for the Cardiff Blues in Wales.
"I was hoping that it would get better but it never did," he said. "But, you know, I would never change anything."
Lomu is survived by Nadene, his third wife, and his sons Brayley, 6, and Dhyreille, 5. He was previously married to Tanya Rutter from 1996 to 2000 and Fiona Lomu (nee Taylor) from 2003 to 2008.