Royal revelry: KC celebrates after clinching second straight ALCS berth (PHOTOS)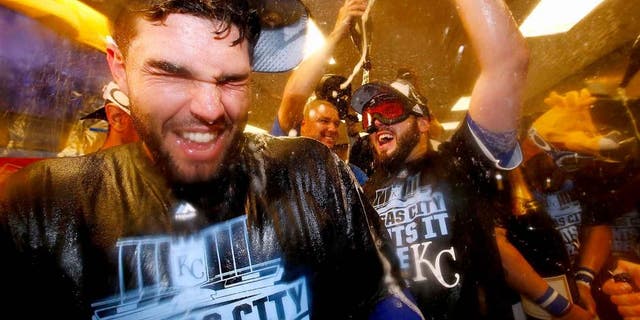 NEWYou can now listen to Fox News articles!
KANSAS CITY, MO - OCTOBER 14: Eric Hosmer #35 of the Kansas City Royals, left, celebrates with teammates in the clubhouse after defeating the Houston Astros 7-2 in game five of the American League Divison Series at Kauffman Stadium on October 14, 2015 in Kansas City, Missouri. (Photo by Jamie Squire/Getty Images) Jamie Squire Getty Images
For the second year in a row, the Kansas City Royals will battle it out for the American League pennant.
After taking down the upstart Houston Astros on Wednesday night thanks to a sterling effort from Johnny Cueto, the Royals punched their ticket to an ALCS date with the Toronto Blue Jays.
After the game, which was a hard fought battle until Kendrys Morales' booming three-run homer in the eighth inning put an exclamation mark on the night, they let loose with some celebrating. Mind you, it wasn't necessarily the same type of all-out celebration reserved for the clinching of a postseason spot (or a pennant or a World Series), but it was still worthy of Tweeting...which many folks did.