Ronda Rousey explains how she finishes fights in a matter of seconds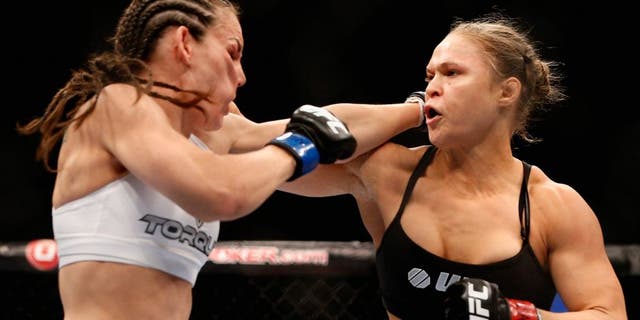 NEWYou can now listen to Fox News articles!
Every time Ronda Rousey steps inside the Octagon, it feels like she has somewhere else to be, considering the lightning-fast way she demolishes her opponents with nine UFC career finishes coming under one minute into the first round.
As dominant as Rousey has been since joining the UFC, the way she overwhelms opponents in the opening seconds of a fight isn't a mistake.
It's something that's been ingrained in her head since she learned how to do judo from her mother, who taught her the secret to beating opponents before they know what hit them.
"When I did judo as a kid, my mom told me the most common time to catch somebody is the first second of the match," Rousey said on "Mike and Mike in the Morning." "So when I was a little kid from like 11 on, I would always try a throw right after the bell so I had a lot of matches that were in the first 10 or 20 seconds, because that's when the person is most unprepared."
Most fighters will take at least the first 30 seconds to settle into a rhythm before looking for an opening to expose against an opponent.
Not Rousey.
She comes hard charging across the Octagon like a bull, and it's up to her opponents to either avoid her or hope to find a way to stop her. In 12 fights thus far during her MMA career, no one has figured it out.
"It's just been drilled into my brain since I was a little kid to not have that feeling-out period," Rousey said. "To be good at what other people are bad at."
Because Rousey is such a dangerous person in the first minute of a fight, she also has to get ready for the unexpected when it comes to her opponents.
Since most UFC fights aren't finished inside of one minute, the contenders who face Rousey usually try to draw up some kind of special game plan for the opening of the fight to counter her Tasmanian devil style of attack.
For instance, Cat Zingano decided to attempt a flying kick -- a move she definitely hadn't tried in the UFC previously -- as soon as the referee started her bout with Rousey at UFC 184.
"It also makes them very hard to prepare for because people don't act like themselves when they're fighting me. They're just planning like what hasn't been tried yet," Rousey said. "So they're going to come out and they're going to try whatever hasn't been tried on me before, so I have to think about 'What is this person going to come at me with and how are they going to change when they're in that high-pressure situation?'
"It's much harder to predict than any other kind of fight. I'm always in a very dangerous situation when I fight. I have no clue what this girl is going to do. She has no clue what she is going to do. I have a general idea, but there have been times where I played a fight in my mind thousands of times and it still didn't go that way."
Zingano's attack ultimately failed and she became another victim of Rousey's blistering fast finishes.
While Rousey loves coming out at the start of all her fights like she's trying to put out a fire on her opponent's face with punches, the other result of sub-minute finishes is the lack of footage she's given future contenders to drill down and see what mistakes she makes.
Considering she's in and out of the Octagon in less time than it takes to microwave a bag of popcorn, Rousey's potential opponents don't have much to go on before they face her in the cage.
Rousey said her next opponent, Holly Holm, will present a different look considering her boxing pedigree, which automatically makes her keep distance while employing weapons such as a long jab and a stinging kick from the outside.
Of course, Holm still has to figure out a way to solve the Rousey puzzle or become No. 13 in her win column and No. 7 in her title defense streak.
"That's the great thing about having short fights is these girls don't really know what I'm capable of," Rousey said. "They're guessing at what I can do, but they have very little footage to work from. I'm excited to show what I can really do against an athlete like her."