Ron Rivera says Kony Ealy has 'taken the bull by the horns'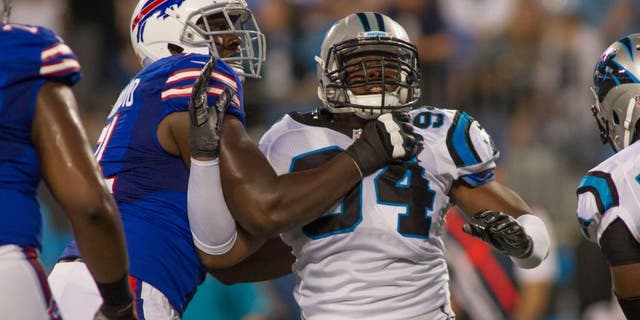 NEWYou can now listen to Fox News articles!
The Carolina Panthers are badly looking to find the answer to who will pair up with defensive end Charles Johnson in 2015. Apparently, as Bill Voth of Black and Blue Review reports, Ron Rivera strongly believes that man may be Kony Ealy.
"He has taken the bull by the horns," Rivera told Black and Blue Review. "He's earned the opportunity, and I've been very pleased with him the last two weeks."
Voth also reported that Rivera said, unless Ealy "completely flops" in the preseason finale, that he'll be the starting DE against the Jacksonville Jaguars in Week 1.
Ealy , a second-year rusher from Missouri, has always had major potential, but Panthers fans are simply waiting for him to truly break out. Could 2015 be his season? It seems like a strong possibility, but for the time being, at least the confidence in him is growing.
(h/t Black and Blue Review)