Rex Ryan worried about struggling kicker Dan Carpenter's recent misses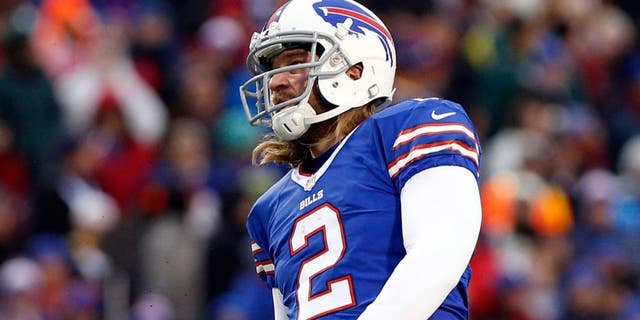 Holding a job as a kicker in the NFL is incumbent on, well, making field goals. If a kicker begins to miss, his job could be on the line.
In Buffalo, head coach Rex Ryan is concerned with a recent rash of misses from Dan Carpenter -- a usually-reliable kicker for the Bills. Carpenter has not only missed the newly-modified 33-yard extra point, but he's also missed field goals of 46 and 53 yards.
"I am concerned," Ryan said, via Mike Rodak of ESPN. "I mean, [he] missed a couple field goals and an extra point that is concerning because he missed a lot of camp. We have to see him kick better. Quite honestly he needs to, we are the only team in the league that keeps a kickoff specialist; with that being said you do that to make sure you're giving your kicker a chance to focus on one thing, and that is field goals."
As Ryan mentioned, the Bills carry kickoff specialist Jordan Gay on the roster, meaning there's a chance he can replace Carpenter at the drop of a hat. If a team is going to carry a kickoff specialist, the traditional kicker better be elite, which Carpenter has been throughout his career.
"To his thing he hasn't been out there the whole time," Ryan said. "Hopefully it is just a matter of time. We all know he has been a big-money kicker. Not everybody can kick in our conditions so the fact that he has made them in those times gives you some comfort, but I don't like seeing him miss kicks ever."
Carpenter doesn't feel comfortable as of now, given his recent struggles. If he continues to miss kicks, his job could be on the line.
"Yeah, I am worried every day," Carpenter said. "It doesn't matter you are getting compared to guys whether they are in your camp, out of your camp, in someone else camp, on the street, it doesn't matter. There is always someone out there wanting your job and you got to do your job to keep it."
(h/t ESPN)