Revisiting the infamous 2012 Clint Bowyer-Jeff Gordon fight in Phoenix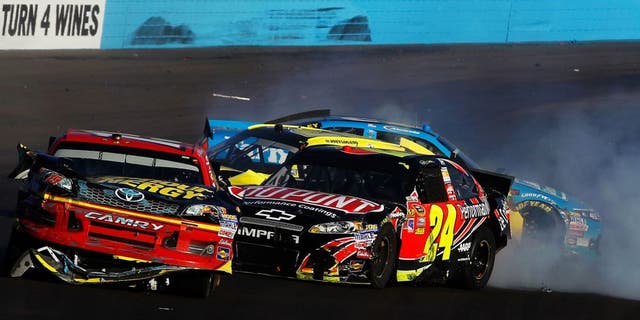 It often takes a lot to get Jeff Gordon fired up, but by the penultimate race of the 2012 NASCAR Sprint Cup season at Phoenix International Raceway, the Hendrick Motorsports driver had had enough.
A feud with Clint Bowyer had been steaming since a run-in at Martinsville Speedway earlier in the year, and after contact late in the race at Phoenix, the four-time champion was not going to take it any longer.
Battling for the fifth spot with 14 laps to go, Gordon and Bowyer made contact, sending the No. 24 Chevrolet up the banking, into the wall and out of contention. With a damaged car, Gordon was determined to exact revenge.
With two laps left in the race, Gordon slowed on the track and waited for Bowyer's No. 15 Michael Waltrip Racing Toyota to fill his mirror. When Bowyer tried to move under Gordon, the veteran driver hooked the right rear corner of the Toyota, sending both cars into Joey Logano, causing all three cars to hit the Turn 4 wall hard.
As Gordon climbed from his car in the Sprint Cup garage, Bowyer's MWR team pounced on the driver, whose crew quickly came to his defense. Gordon was quickly separated from the fracas and ushered into his hauler to cool off.
While the crews battled in the garage, Bowyer climbed from his wrecked car on pit road and set off in a sprint to find Gordon and get in on the action. After his spirited run from pit road to the garage area, NASCAR officials stopped Bowyer at the door of Gordon's hauler.
"It's pretty embarrassing," said Bowyer. "For a four-time champion and what I consider one of the best this sport's ever seen to act like this is pretty ridiculous."
For the No. 24 team, the issue started back at Martinsville Speedway in April of that year. Gordon and teammate Jimmie Johnson were poised to give Hendrick Motorsports its 200th Sprint Cup Series victory. However, contact from Bowyer on the first attempt at a green-white-checkered finish sent both Hendrick cars spinning in Turn 1.
With bad blood still lingering months later, Gordon's crew chief Alan Gustafson said the team simply had enough with Bowyer.
"We got used up by Clint several times this year, and enough is enough," said Gustafson. "If you're going to mess with the bull, you're going to get the horns."
In the end, Gordon was fined $100,000, lost 25 championship points and was placed on probation through the end of the 2012 season, while the clip of the wreck and ensuing fight will live on in NASCAR lore for quite some time.
Take a look at the incident and ensuing fight below: