Report: New York talked to David Blatt about becoming its head coach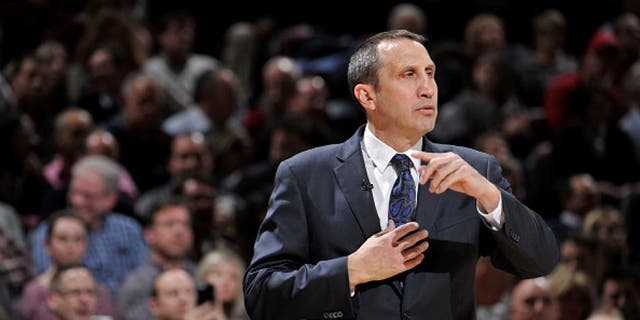 NEWYou can now listen to Fox News articles!
The New York Knicks are currently searching for their next head coach, and over the past few weeks, team president Phil Jackson has been all over the map trying to pick the candidate he feels is best for the job.
Former Cleveland Cavaliers head coach David Blatt is certainly more than qualified, and, to the surprise of many, Jackson reportedly interviewed him for the position on Monday.
That sound you hear is a brief, collective sigh of relief from millions of Knicks fans who can't believe their favorite team might possibly (potentially) be heading in the right direction.
Is Blatt a perfect human being? Nope. But he also isn't Kurt Rambis or Brian Shaw. He's a highly intelligent basketball coach who's proven himself all over the world, including the NBA. He won't play Kristaps Porzingis at small forward.
Unfortunately, Rambis is still the favorite (via The Vertical):
Interim coach Kurt Rambis has remained a strong frontrunner to become the full-time coach, and it is unclear if the Blatt meeting was more than a token appearance in a coaching search. Jackson has been determined to continue to run his triangle offense, and Rambis has been a loyal disciple of the system.
Beyond Blatt's ability to be a smart person, maximize his players' strengths and minimize their weaknesses, if New York hired him it'd be viewed as a necessary step from Jackson's firm belief that the Triangle Offense is the only offense. The optics would be as good as any head coach hire can be.
Assuming the Knicks sign a point guard who can guard people, shoot and attack off the dribble, their offense might finally embrace the pace-and-space ideology that can free up Carmelo Anthony and Porzingis at their natural positions.
The Cavaliers weren't a thoroughbred under Blatt, but that's likely because he wanted to keep his stars fresh and develop a methodical half-court offense for the postseason. In New York, there's no problem unleashing Porzingis in transition, playing athletes on the wing and attacking from behind the three-point line.
It's probably the smartest hire Jackson can make, and Knicks fans should already have their fingers crossed.