Report: Dodgers 'showing significant interest' in reliever Darren O'Day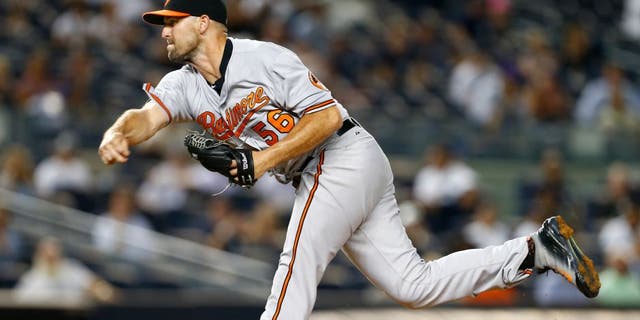 Darren O'Day held a 23-8 record with a 1.92 ERA and 283 strikeouts in four seasons with the Orioles. Rich Schultz Getty Images
The Los Angeles Dodgers' bullpen has been a point of emphasis for the front office the past few years, and now they are reportedly pursuing one of the best relievers in the game.
According to ESPN.com, the Dodgers are "showing significant interest" in free-agent reliever Darren O'Day, who last played with the Baltimore Orioles.
In his four seasons with the Orioles, O'Day was consistently dominant, asserting himself as one of the best relievers in the AL by posting a 23-8 record with a 1.92 ERA and 283 strikeouts in 263 innings over 273 appearances.
The Dodgers, who have been without a go-to set-up man for the past few seasons, could insert O'Day into their set-up role to create a solid bridge to closer Kenley Jansen.
Although Los Angeles' interest in O'Day is strong, it is hardly the only team who is out to nab the 33-year-old right-hander's services.
Among the other teams rumored to be showing interest in O'Day are the Chicago Cubs, Washington Nationals, Detroit Tigers, Boston Red Sox, and San Francisco Giants.
FOX Sports' Ken Rosenthal reports that even the Kansas City Royals, who have one of the strongest bullpens in the game, have expressed interest in him.