Report cites St. Louis' proposed financial commitment to new football stadium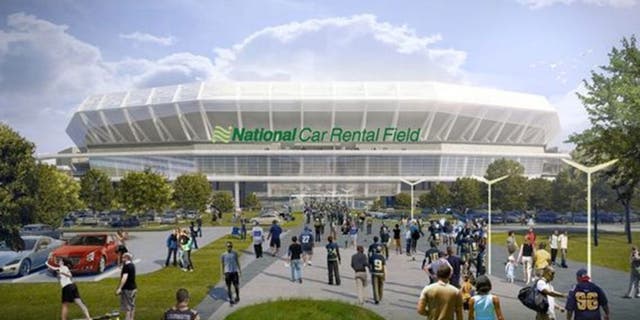 NEWYou can now listen to Fox News articles!
ST. LOUIS -- St. Louis city will pay $6 million a year toward a new riverfront football stadium and rebate an undetermined portion of game-day taxes to the team, according to a newspaper report Friday that cited draft measures by the city's governing board.
The yearly $6 million is the same amount that now covers debt payments on the current Edward Jones Dome, covering roughly $70 million of the $150 million that Mayor Francis Slay's office has committed to the billion-dollar project's construction and planning, the St. Louis Post-Dispatch reported.
The second half of the money will not be paid by the city but by the public authority that owns the Jones Dome, according to the St. Louis Board of Aldermen legislation. That would be done largely by leveraging a recently announced $158 million naming rights deal involving the proposed stadium.
It's unclear if St. Louis will have an NFL team when the stadium is finished. Rams owner Stan Kroenke is seeking to move his team to Los Angeles.
Slay's chief of staff, Mary Ellen Ponder, said Friday that she anticipates the measure will be introduced at next Friday's board meeting, though she cautioned that the legislation obtained by the newspaper is a draft, with important holes still being negotiated.
"The best deal for the city can't be looked at by direct revenues only," she said. "You have to look at the intangible benefits of keeping the NFL, and ideally the Rams, in the city."
Ponder, hopeful that the NFL would accept the proposal, added: "I think we have some great ambassadors in St. Louis who are working very closely with the NFL. And I think they can get it through."
The public details of possible city financing for the stadium come as some on the aldermanic board are pressing for a public vote before the city is allowed to spend $150 million on the stadium. A St. Louis judge in August declared as invalid a city ordinance requiring such a vote, calling sections of it "too vague to be enforced."