Relive Holly Holm's career-defining, head-kick knockout of Ronda Rousey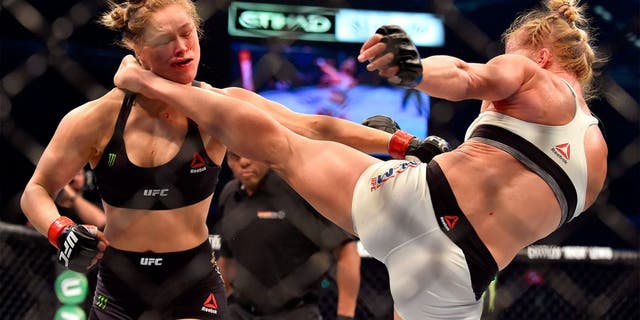 Holly Holm is preparing to make her first title defense against Miesha Tate at UFC 196, but it's impossible to forget the moment she claimed the belt last November.
Holm pulled off a huge upset with a second-round head-kick knockout to put an end to Ronda Rousey's undefeated streak and become only the second-ever UFC women's bantamweight champion.
The moment was shocking to just about everybody watching around the world, but now the UFC has put the full fight up for free for the first time since Holm won the title last year.
Holm put on a dominant performance that night as she beat Rousey to the punch during almost every exchange and even escaped a ground scramble with the former judo Olympian.
In the end, Holm's striking was just too much for Rousey as she bloodied up the former champion with her hands before bringing the fight to a close with the head kick heard round the world.
Watch the fight again now as Holm prepares for her showdown with Tate on March 5 in Las Vegas as the co-main event, along with Conor McGregor's attempt to win a second UFC title when he takes on Rafael dos Anjos.