Reinventing the wheel? Wood Bros. go way back with Darlington tire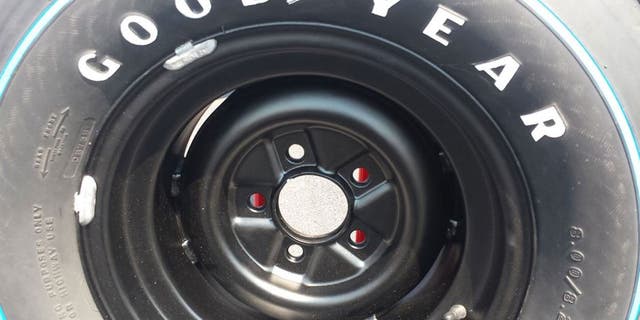 NEWYou can now listen to Fox News articles!
While NASCAR is enjoying the throwback weekend, the sport's longest continually operating team has brought a piece of history with it to Darlington Raceway.

Just outside the Wood Brothers Racing hauler in the Sprint Cup Series garage sits a 1967 Blue Streak Stock Car Special Goodyear tire. The wheel the tire sits on features a unique and innovative adaptation to make the hub much more sturdy.

When stock cars began racing on the larger, faster speedways in the 1960s, teams were having issues with the cars breaking hubs due to the high load in the corners. Always the innovators, Hulman & Moody took the wheel and went to work.

The iconic race team took the center hub of another wheel and welded it to the hub the tire would go on to create a double-center wheel. They welded the piece together with the other center hub, and then used stitch welds to reinforce it to the rest of the wheel.

While Holman & Moody created these special wheels for the Ford teams, Wood Brothers Racing co-owner and chief operating officer Len Wood said Ray Nichels was responsible for providing reinforced wheels to the Chrysler teams.

Wood pointed out he could tell the difference between the two styles because Nichels' wheels would feature seam welds while the Holman & Moody wheels used stitch welds.

On a weekend where NASCAR, the teams and even Goodyear are going retro, leave it to the Wood Brothers to bring one of the most interesting and unique pieces of racing history with them to put on display.