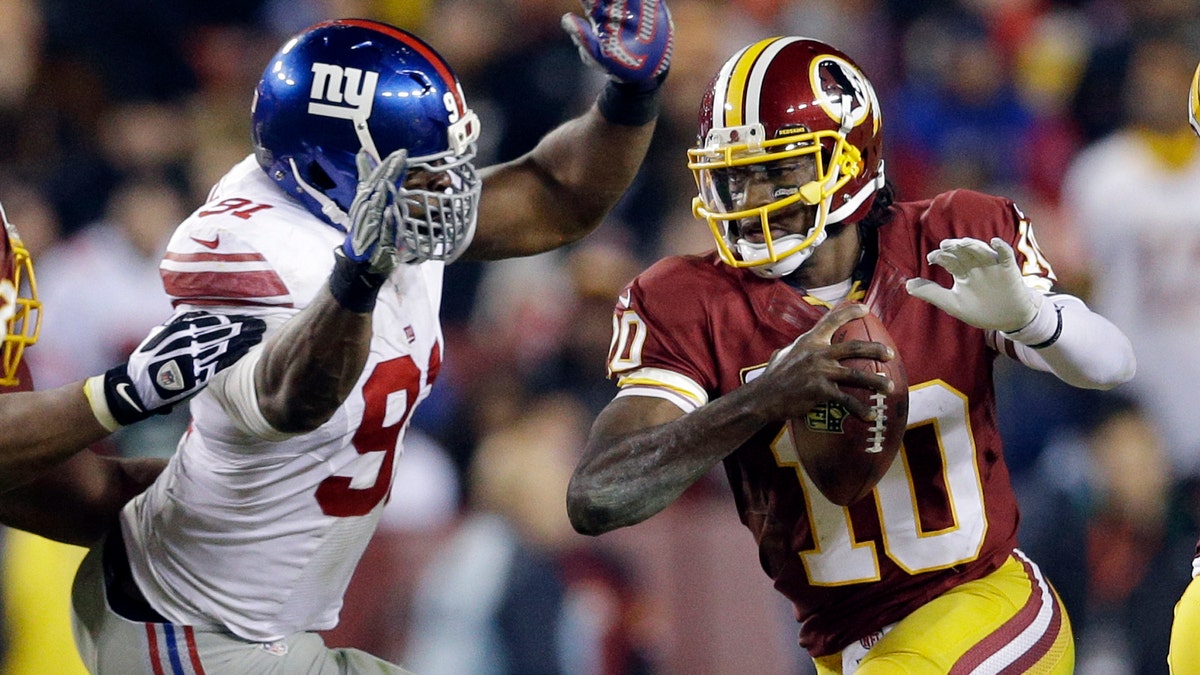 ASHBURN, Va. – Given a chance to endorse Mike Shanahan to return as coach of the Washington Redskins, Santana Moss and Robert Griffin III took very different approaches.
Veteran receiver Moss gave a solid vote of confidence to the coach who has a 24-36 regular season record near the end of the fourth year of a five-year contract, while the young franchise quarterback's response was hardly campaign-speech material.
"The grass ain't always greener," Moss said Wednesday. "I've always lived by that, learned from my father. At the end of the day, this is RG's second year, and it wasn't the second year that (any) of us hoped for. He had to deal with an offseason of just rehabbing and getting himself back, so you almost automatically got to feel that you have to give him another chance to really show that this offense can be ran the way it should be under him and these coaches."
Griffin's answer was more circumspect.
"Everyone's going to have an opinion," Griffin said. "And it's an outside opinion. ... Whenever you have a year like we're having, sitting at 3-9, we had higher hopes and higher expectations, people are going to try to sink the ship and our job is not to focus on that stuff."
Pressed specifically for his opinion about the coaching staff and the future, Griffin replied: "I think these guys have a great future, and I love having them here, and that's all I can say."
The difference could be attributed to a savvy 34-year-old knowing better than an upstart 23-year-old the best way to deal with potentially tricky questions, but Griffin's answer led to more questions, along the lines of "How would you describe your relationship with the coaches?"
"Whenever you have competitors like us, losing can be tough," Griffin answered. "But at the end of the day, just like when I came in here, me, Coach, (offensive coordinator Kyle Shanahan) and all the rest of the coaches and all the rest of the players, we all want to win and that's a winning recipe, whether you do it on the field or not. So that's the way I look at it. We're all competitors. We all get heated at times, but at the end of the day, we all want to win."
It can be argued that "we all want to win" is a pretty low baseline — after all, everyone wants to win — so Griffin was asked how much trust he has in the coaching staff.
"At much as it can develop in a year-and-half, two-year span," Griffin said. "I haven't spent a lot of time here, obviously. I haven't spent a lot of time in the league, and it takes time to build that trust over time with a coach."
Griffin will likely have to endure at least four more weeks of similar questions. The Redskins will be playing for pride in December with an eye on the future, and the much-analyzed Shanahan-Griffin dynamic will be front and center.
Griffin had one of his better games of the season in Sunday's 24-17 loss to the New York Giants. He completed 16 of 17 passes in the first half, and his receivers dropped several passes in the second half. His passer rating topped 100 for only the fourth time this season.
If Griffin can maintain that momentum this week against the Kansas City Chiefs — particularly if the Redskins pull off the win — it would temper the outside noise.
"We were really clicking," Griffin said. "And we've just got to find a way to channel that for a whole game and not just for a half."
When Mike Shanahan was asked about the relationship with his quarterback, the coach joked about why they don't spend time together at the local pub — "He doesn't drink," Shanahan said — and, more seriously, cited the importance of the coach-QB bond.
"I think we've got a good relationship. ... I think it's always been good," Shanahan said. "I know some of the things I read (say) it's not always that good, but I've always felt it's been good."
Notes: TE Jordan Reed (concussion), LT Trent Williams (bruised foot), S Brandon Meriweather (bruised chest) and S Reed Doughty (concussion) did not practice. ... FB Darrel Young (hamstring), LB London Fletcher (sprained left ankle) and CB DeAngelo Hall (left hip and neck) were limited. ... TE Niles Paul returned to practice, having recovered from a viral illness that caused him to lose 8 pounds and miss the Giants game. ... The Redskins moved OL Maurice Hurt from the Physically Unable to Perform List to injured reserve. Hurt had offseason surgery on his right knee. ... DE Stephen Bowen, already on IR, had surgery Tuesday night for a microfracture and cartilage damage in his right knee. Estimated recovery time is six months.
___
AP NFL website: www.pro32.ap.org
___
Follow Joseph White on Twitter: http://twitter.com/JGWhiteAP