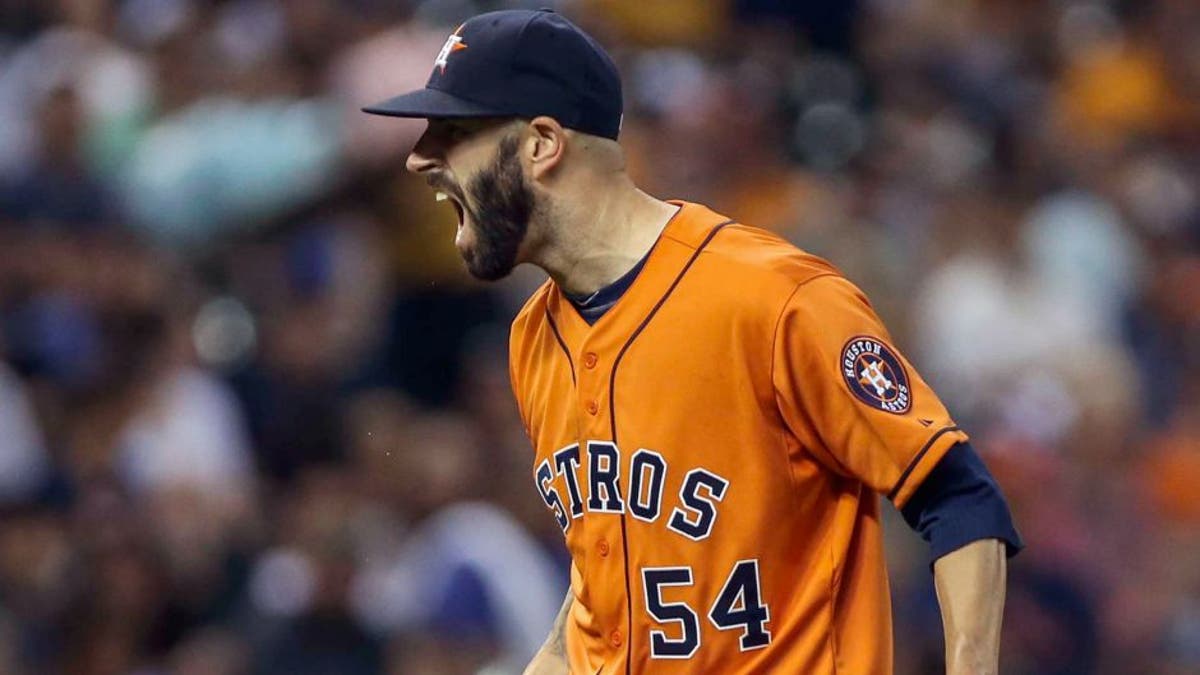 Going into this season, Mike Fiers was known more than anything for throwing the fastball that shattered Giancarlo Stanton's face.
Now he's added something much more positive to his resume - a no-hitter for the Houston Astros in a 3-0 win over the Los Angeles Dodgers on Friday night.
A day after flinging his glove in the air after the final out, Fiers was still enjoying an emotional high.
''I prayed for this opportunity to pitch for this organization, to pitch in front of these fans,'' he said Saturday. ''Just the opportunity to play baseball another day. It's a good feeling.''
Fiers, acquired with star outfielder Carlos Gomez by the AL West-leading Astros from Milwaukee at last month's trade nonwaiver deadline, had never thrown a complete game in 58 starts over five seasons. The 30-year-old righty threw 134 pitches to blank the top team in the NL West.
With a 22-28 career record, Fiers has gone through many ups and downs in the majors. He had a hard time last September after beaning Stanton, putting the NL leader in home runs and RBI out for the rest of the season with multiple facial fractures and extensive dental damage.
''I talked to Stanton after that incident,'' Fiers said. ''He was really a professional guy. He understands this game. We talked about the incident, and I told him how sorry I was.''
''Things like that happen. It was not anything intentional. He knew that, I knew that,'' he said.
Gomez said Fiers was frustrated about the beaning.
''They know he did not mean that,'' Gomez said Friday night. ''He's a good guy and great person. I don't think he'd want to hurt anybody. I don't think any pitcher tries to hit anybody in the face, even if you don't like him. When you get hit like that, myself I get hit many times in my head and I'm not upset about this. You just move forward.''
Fiers said that's what he did.
''You can't let one moment like that affect your career,'' Fiers said. ''It was very tough to get over that. Even now, I still think about it all the time. A moment like that never really goes away.''
''My game plan when I pitch is to pitch everywhere. I have to throw in. I have to throw away. I have to mix it up. Big league hitters are too good to sit in one away zone and try to get them out. You have to keep them honest. You have to pitch inside. One ball got away and hit him, but there was no intent,'' he said.
The way he pitched kept the Dodgers off-balance throughout the night, with Fiers striking out 10 and retiring the final 21 batters.
Late in the game, pictures surfaced online claiming that Fiers had an illegal substance on his glove. Fiers said he had not been contacted by MLB.
''I mean you can try to pick out a lot of things through a lot of games,'' Fiers said. ''I don't know what they are talking about. It could be a different lighting or camera angle or a lot of things. I don't know.''
Fiers said he hadn't moved his arm too much since going the distance for the first time. He said he planned to relax it and have fun with his teammates Saturday.
''I have always thought of myself as a big league pitcher, and I thought of myself as being one to this point,'' Fiers said. ''It's a dream to throw a no-hitter. It happened last night.''