Red Sox stun Blue Jays with 5-run outburst in ninth inning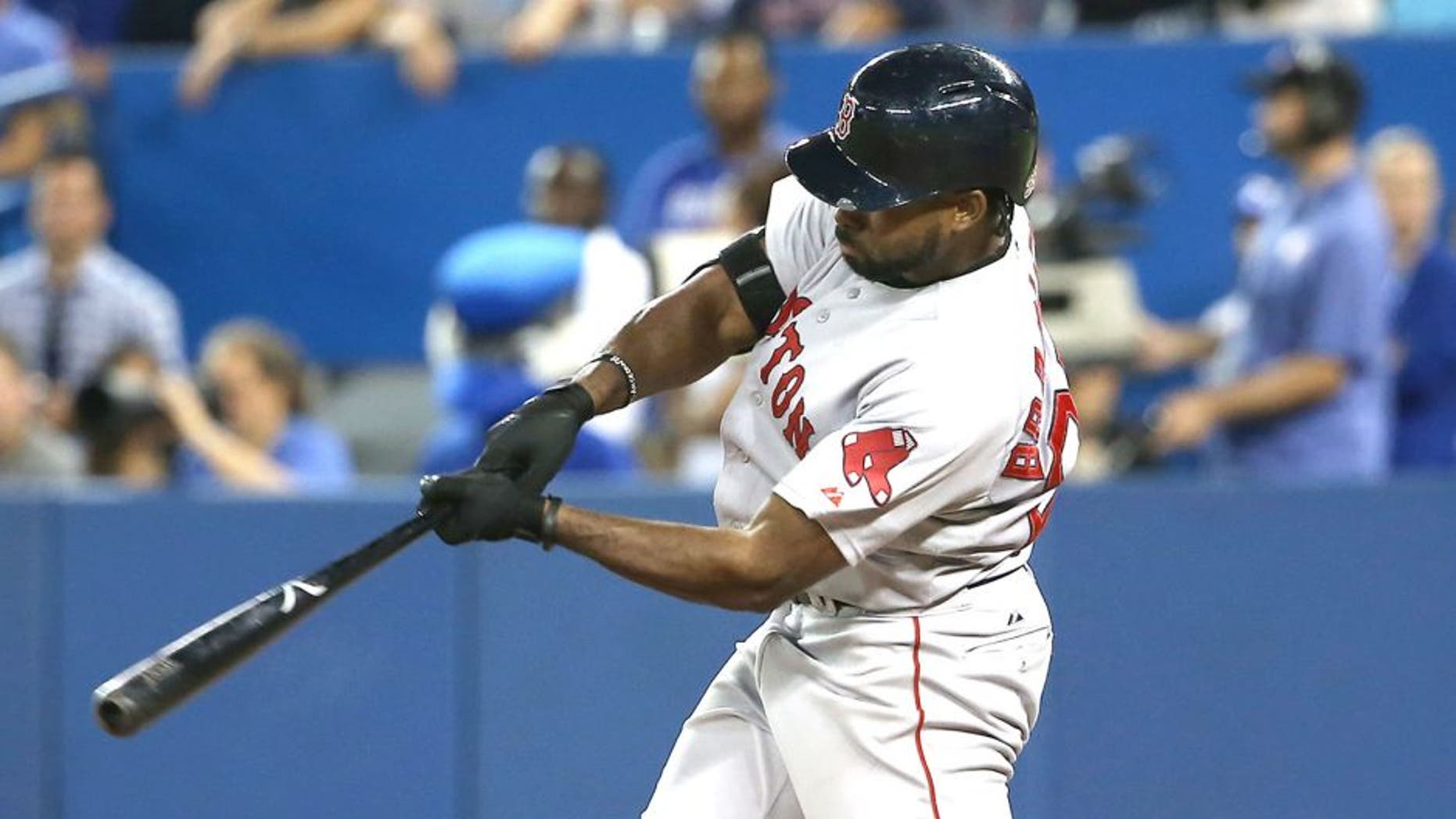 David Ortiz singled home the go-ahead run in a five-run ninth inning, and the Boston Red Sox rallied to beat the Toronto Blue Jays 7-6 on Saturday.
Jackie Bradley Jr. snapped an 0-for-21 slump with a game-tying double in the seventh, then tied it again with a two-run homer off Roberto Osuna (1-5) in the ninth.
It was the first time in 74 such situations this season that the Blue Jays lost when leading after eight innings.
Xander Bogaerts also homered for the Red Sox, who are 9-9 against Toronto this season. The Blue Jays' lead in the AL East dropped to 3 1/2 games with the Yankees' 5-0 win over the Mets.
One out after Bradley's homer, Dustin Pedroia walked and Osuna was replaced by Aaron Sanchez. Bogaerts singled to right and Ortiz followed with an RBI single to left.
Bogaerts made it 6-4 when he scored on a wild pitch and Rusney Castillo added an RBI single to center, chasing Sanchez.
Tommy Layne (2-1) pitched 2/3 inning for the win and Robbie Ross Jr. overcame Jose Bautista's two-run homer in the ninth to earn his third save.
Pinch-hitter Matt Hague doubled with two outs, but Ross ended it by getting pinch-hitter Justin Smoak to ground out.
Toronto's Edwin Encarnacion went 2 for 3 with a homer and three RBI, including a go-ahead single in the eighth.
After striking out in his first two at-bats, Bogaerts opened the scoring with a leadoff homer off R.A. Dickey in the sixth, his sixth homer of the season.
The Blue Jays answered in the bottom half when Encarnacion hit one off the facing of the second deck in left, his 34th.
Dickey left after Brock Holt's ground rule double to begin the seventh. Mark Lowe came on and got Blake Swihart to ground out, with Holt advancing to third. With the infield in, Bradley followed with a chopper off the glove of diving second baseman Cliff Pennington that ricocheted into shallow right. The double was Bradley's first hit since he doubled in the fourth inning of a Sept. 12 game at Tampa Bay.
Toronto broke the tie with two runs off Noe Ramirez in the eighth. Josh Donaldson and Bautista both walked to begin the inning before Encarnacion delivered a broken-bat single through the left side, scoring Donaldson from second. Three batters later, Kevin Pillar hit an RBI single to right.
Dickey allowed two runs and six hits in six-plus innings. The knuckleballer, who is winless in his past three starts, remains stuck on 99 career wins.
Boston's Wade Miley allowed two runs and three hits in 6 2/3 innings.
TRAINER'S ROOM
Red Sox: 3B Pablo Sandoval (illness) sat for the second straight game.
Blue Jays: SS Troy Tulowitzki said he's ''making strides'' in his recovery from a broken left shoulder blade after initially being unable to lift his arm. There is no timetable for his return.
UP NEXT
Red Sox: LHP Rich Hill (0-0, 0.00 ERA) is coming off his first major-league start in more than six years, working seven scoreless innings against Tampa Bay.
Blue Jays: LHP Mark Buehrle (14-7, 3.66 ERA) allowed five runs and nine hits in 3 1/3 innings in a loss at Fenway Park on Sept. 7. He's 1-1 with a 5.23 ERA in two starts against Boston this season.