Ranking the potential Euro 2016 finals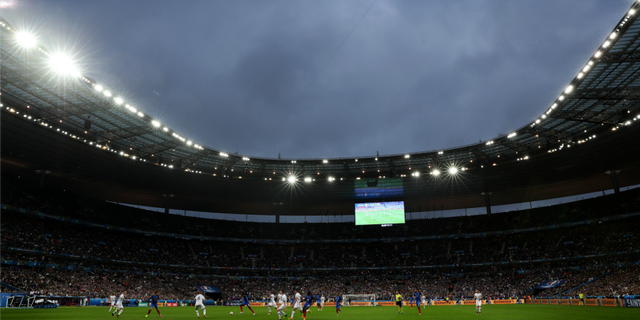 NEWYou can now listen to Fox News articles!
The first-ever 24-team Euros has now been slashed by 20 teams. There are only four sides left, and three matches to crown a champion of Europe. But who will play in that final match?
You can look at it logically -- Portugal and Germany. They are the higher-ranked, more accomplished teams in their semifinals. But what if we could pick the semifinalists to get the most entertaining, narrative-driven final possible?
These are the four potential Euro 2016 finals, ranked by fun factor:
1. France vs. Portugal
It's always fun when the hosts play, and when they play in finals it's extra fun. You get the possibility of not just an entire stadium going nuts, but an entire country. Imagine the parties on the Champs Elysees if France win the final. Oh wait, you don't have to because you can just look back to the 1998 World Cup or 1984 Euros, both of which France won on home soil and the parties were incredible. Root for those parties, plus Paul Pogba dabbing on a bus driving down the middle of it.
On top of that, there's the appeal of getting Cristiano Ronaldo back in a Euro final, 12 years after his first and trying to win Portugal's first major trophy ever. He'd only have to get past arguably the tournament's best midfield, led by Pogba, to do it. And then there's the possibility of Dimitri Payet or Antoine Griezmann one-upping Ronaldo.
Give us this final. Give it to us now.
2. France vs. Wales
All of the cool France-winning-as-host things apply. But now the flipside is Gareth Bale leading Wales to one of the most unlikely championships ever.
As good as France's midfield is, their back line can be picked apart, much in the same way that Belgium's could. And we saw what happened when Wales met Belgium. France aren't as susceptible thanks to their work in the middle of the pitch, but they will concede chances and that would make for an entertaining 90 minutes, whereas Germany boss the game so much that Wales would struggle to get into it.
The only downside here is if Wales wins, Aaron Ramsey's hair will have been validated.
3. Germany vs. Portugal
We're back with Ronaldo finally getting his country over the hump, and doing it two weeks after Lionel Messi retires from Argentina. There's just too much fun talk in that one.
Beyond Ronaldo, Portugal are also a very good team that has one of the best young midfields in the world. To see such young players win out in arguably the most important part of the pitch would be a treat.
Of course, they would have to beat Germany to do it. You know, just the reigning World Cup champions.
There are two reasons Germany winning the Euros isn't as much fun as it could have been, though: The injury to Mario Gomez means no more Mario Gomez button and Spain's recent Euro, World Cup, Euro champions run makes winning two tournaments in two years seem way less special (even if doing it is still absurdly hard).
4. Germany vs. Wales
If you were looking for the ultimate "Good vs. Evil" matchup, you've found it.
Germany are the traditional powerhouse and reigning world champions. Wales are a small country playing in their first major tournament in nearly 50 years.
Beyond that? Ramsey's hair might still be validated.
MORE FROM FOX SOCCER