Rangers keeping Ovechkin from hitting mark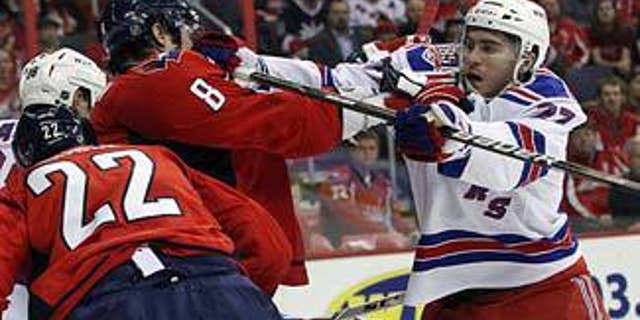 ARLINGTON, Va. -- Alex Ovechkin is one of the most dangerous and prolific shooters in hockey, but the New York Rangers have done an exemplary job of keeping goaltender Henrik Lundqvist shielded from absorbing those shots in the past two games.
In the past two games Ovechkin has attempted 17 shots but only three have been on target. One of them went in, but it wasn't really Ovechkin's shot -- he redirected the puck from Jason Arnott. Seven of his shots have been blocked and seven have been high or wide of the net.
"I mean, I don't know … he's got to find a way to get it through," Capitals coach Bruce Boudreau said. "He knows they're going down to block them so -- I don't know -- avoid it somehow."
Ovechkin has led the League in shots on goal in each of his six seasons. Even this year when he scored only 32 goals -- 14 fewer than any previous season -- he still put 367 pucks on net (only one fewer than 2009-10 when he finished with 50 goals).
Entering Tuesday, there are 19 players in this postseason with more shots on goal than Ovechkin. In Ovechkin's first 28 postseason games he had 161 shots, including 34 in seven games last year. That's a career average of 5.75 per game, which is up slightly from his regular-season average of 5.32 per contest.
He's averaging only three shots on goal per game to this point, but Ovechkin has had 14 blocked and nine misses. The missed shots could be because Ovechkin's aim is off, but it could also be because New York's defensive tandem of Dan Girardi and Marc Staal is not giving him room to be accurate.
"They are two solid D, stay-at-home D," Ovechkin said. "They shut down guys and play very physical game. I like playing against them. It is fun."
Added Brooks Laich: "They are both solid defensive players. Other than that, they're not throwing anything at us that surprises us. I think they block shots as well as anybody in the League and they work well together."
Girardi is tied for the postseason lead with 14 blocked shots -- a byproduct of playing against Ovechkin and a willingness to put his body in harm's way despite knowing a guy who can shoot the puck about as hard as anybody is winding up. He also has 12 hits, providing context for Ovechkin's assertion that they like to play a physical style.
Staal and Girardi are both averaging more than 26 minutes per contest in this series as coach John Tortorella matches them up against Ovechkin's line. Several players said physical play against the duo might be the best strategy to siphoning their effectiveness.
"Little battles within a series -- you always want to wear players down," Laich said. "It is no secret those are the two guys that play their top defensive minutes. So whether it is them or their third and fourth defensemen, we just want to keep hitting them and wearing them down. If you're going to make the investment of skating over that far, make the investment to finish."
Added Backstrom: "If you hit them a lot, get the puck deep and skate towards them and make them work, that's something you're going to see -- make them tired. I think we have to be better than before, the same as we did in Game 1 and 2, I think."
The Capitals have now scored two goals or fewer in their last six playoff games, dating back to the final three games against Montreal in 2010, and only nine total in that span. While Washington has proven it can play better team defense this season, that wasn't the problem against the Canadiens -- offense was.
"It's a tight, defensive game out there," Jason Arnott said. "It's been a hard-fought game, lots of hitting. It's a tight game. It's hard to get to [Lundqvist]. It's hard to get shots on net -- they're playing real well that way. As well as we are. For the most part I think we just gotta get more shots when we can -- try not to make that pretty play when it's there and crash the net as much as we can."
Added Ovechkin: "We want to score five goals but it is kind of hard right now. Everybody give attention to D, so it is kind of hard."