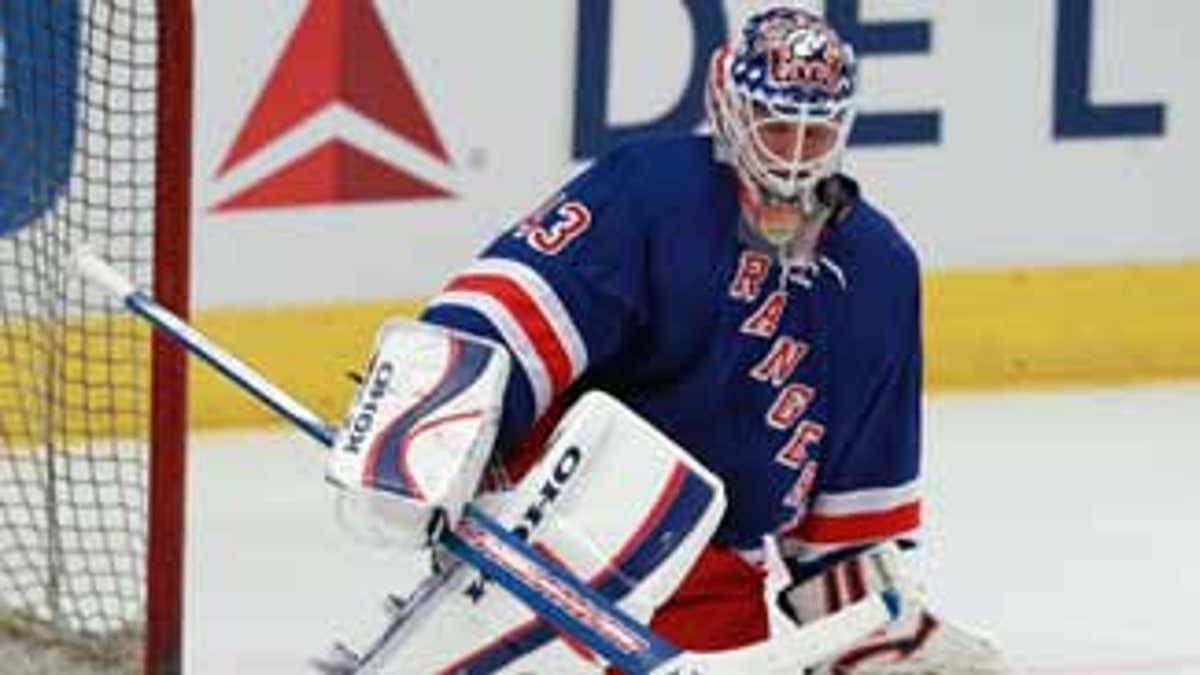 The New York Rangers acquired backup goalie Martin Biron during the summer to play enough games in order to keep Henrik Lundqvist fresh for a playoff push. Hopefully 17 games of rest is enough for Lundqvist because Biron probably isn't going to play again in the regular season after fracturing his collarbone in practice Monday.
With no other veteran goalie in the system -- and not enough time or desire based on asking price to acquire one by Monday's 3 p.m. ET trade deadline -- the Rangers will have to go with minor leaguers as backup goalies just as they did for the second half of last season.
The Rangers recalled Cam Talbot from the ECHL to serve as Lundqvist's backup Tuesday against Buffalo.
Rangers GM Glen Sather said he envisions Lundqvist playing all but one or two of the Rangers remaining 18 games. Lundqvist is assured of playing fewer than 70 games this season because he's played in just 50 to this point, so Sather isn't worried about the All-Star breaking down by the end of the regular season.
The Rangers are seventh in the Eastern Conference with 70 points, five more than the ninth-place Sabres heading into Tuesday's showdown at Madison Square Garden. Biron was 8-6 with a 2.13 goals-against average this season.
"It's always a bit of a concern, but he's had a lot of time off this year already and frankly Henrik likes to play every day if he can," Sather said. "We've got time off between a lot of these games. The toughest part of our schedule is really behind us. I think we have three back-to-back games left for the season, so we think maybe the backup will play one or two games between now and the end of the regular season."
Sather said he looked into the trade market for a veteran backup, but "when you're looking for something with short notice like that it gets very expensive to find an NHL backup goalie that has experience. We didn't want to lay a lot on the line. I know it's risky...we think we'll be able to get through this fairly well."
The only trade the Rangers made Monday was one for John Mitchell from Toronto for a seventh-round pick. Mitchell will report to Connecticut. Sather said he had a lot of conversations with GMs around the League, but almost all were asking for young players on the current roster and top prospects.
He didn't want to part with any of them.
Reports surfaced early in the day that Dallas center Brad Richards would be willing to waive his no-trade clause to go to the Rangers, but no deal materialized likely because the asking price was too high for a possible rental player who has concussion-like symptoms.
"We think we have good chemistry here and we think we're still in pretty good shape," Sather said. "We've got a hard-working team that has stuck together and worked well together and I didn't want to disrupt that.
"We haven't scored enough goals the last few games, but I think we're in position where the team is starting to get healthy. I think we're going to be just fine."
Sather said he met with injured star Marian Gaborik (concussion symptoms) and is confident he'll return "before too long." He said Gaborik felt good all day Monday. He has usually been experiencing headaches at night, "but they've been less and less."
He also expects to have defenseman Marc Staal (knee), forward Ruslan Fedotenko (shoulder) and rugged forward Derek Boogaard (concussion) back soon. Chris Drury (knee surgery) is unlikely to return this season, Sather said.
Follow Dan Rosen on Twitter at: @drosennhl