Rams second-year WR Nelson Spruce working for roster spot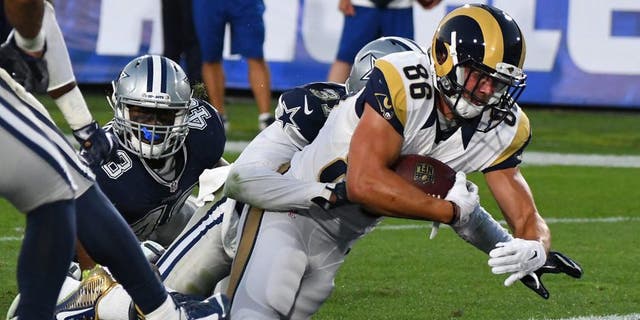 NEWYou can now listen to Fox News articles!
THOUSAND OAKS -- Nelson Spruce made the catch of the day.
As the Rams workedon red-zone offense on a perfect Tuesday afternoon on the campus of Cal Lutheran, Spruce caught an absolute laser from backup quarterback Sean Mannion .. which just grazed the fingers of the defensive back.
'That one (the catch) took a little extra concentration cause the DB undercut it at the last second, I think he even got a hand on it," said Spruce following Day 1 of the Rams' minicamp. "It was coming so fast. The location was perfect from Sean."
In 2016, Spruce had a decent preseason … with a few highlight plays … before losing his rookie year to injury reserve because of knee and calf injuries.
Now, finally healthy, Spruce is feeling good.
"I really feeling 100 percent for the first time in a while," Spruce said. "I missed a lot of time with injures (in 2016) so I'm just shaking off the rust and getting extra work with the QBsand getting my feet back under me."
In the offseason, the Rams added free-agent receiver Robert Woods and drafted Cooper Kupp (Eastern Washington) and Josh Reynolds (Texas A&M), to go along with Pharoh Cooper, Tavon Austin and others in Los Angeles.
Needless to say, the Rams' receiving room is, well, running out of room.
"The rookies came in, they transitioned really well. I think we have a good group of guys. Great relationship between all of us. We are all competing against each other."
Entering his second season as a professional, Spruce knows what's at stake … he has the make the team again.
"I know my spot's definitely not safe by any means. I just want to contribute in any way I can," Spruce said.
Spruce said starting quarterback Jared Goff looks and sounds more confident than a year ago, when the No. 1 overall draft pick struggled in all aspects of the game.
"Jared is more comfortable … not onlywith the offensebut from a leadership standpoint. It's going to be a big year for him.
Being that he grew up minutes from Rams' practice facility, Spruce says it's nice, but he's starting to feel like he's back in high school.
"It's getting kinda old," Spruce said was a laugh. "It's cool being around my family."