Rams eager to add reinforcements from injury list to face Bears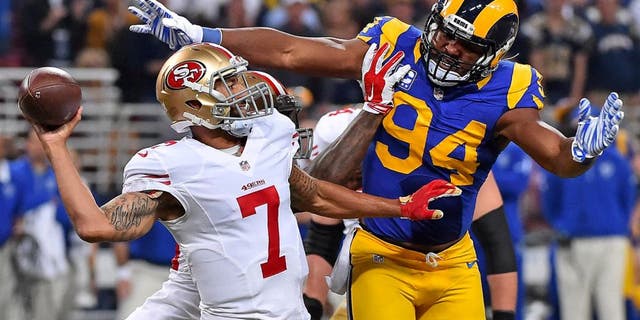 ST. LOUIS -- Defensive end Robert Quinn, safety T.J. McDonald and offensive tackle Rob Havenstein, who missed last week's overtime loss at Minnesota, returned to the practice field Friday for the St. Louis Rams.
All three are listed as questionable for Sunday's home game against the Chicago Bears, Rams coach Jeff Fisher said.
Defensive coordinator Greg Williams is hopeful to have Quinn and McDonald ready to go.
"It's looking pretty good," Williams said Friday after practice at Rams Park. "We'll have to see if there's any setback and if they can take the psychological battle of me giving them a bunch of static about them being dressed and in uniform and doing what their job is supposed to be."
Quinn, who leads the Rams with five sacks in seven games, missed last Sunday's loss to the Vikings with a knee injury. It ended a run of 70 consecutive games played for the fifth-year pro. He last missed a game in Week 1 of 2011, his rookie season.
"I was proud to be able to go out there every week and play," Quinn said. "I don't know the feeling to sit out. It took everything for them to keep me out. They were looking out for my safety. Now, I'll just have to start a new streak."
William Hayes started at left end for Quinn and drew multiple penalties for jumping offside. The Rams also got only one sack, from safety Mo Alexander, while Adrian Peterson picked up 125 yards on the ground for Minnesota.
Quinn wants to play, but he pointed out it is not his decision.
"I'm ready to get out there again, but we'll see come Sunday," Quinn said. "Coach Fish makes the call there."
McDonald (foot) believes he will be in action this weekend.
"I hated missing the challenge last week," McDonald said. "I was there to cheer my teammates on. If I could have been out there, I would have been out there. I want to be out there this week."
Havenstein, a second-round pick from Wisconsin, missed playing due to an ankle injury after starting at right tackle in each of his first seven NFL games. Rookie lineman Andrew Donnal earned the first NFL start of his career at right tackle in place of Havenstein.
Defensive end Chris Long ran for the first time since he hurt his knee in Week 5 at Green Bay, but he won't play against Chicago and his brother, offensive lineman Kyle Long.
"This was my first day running in five weeks," Long said. "It felt good to get out there and run and cut. When I'm back, I'm going to be back. When I came back last year, I felt so average and not myself. It's going to be awesome to be back and be ready to play."
He will miss playing against his brother.
"William knows how to get under everybody's skin but me, and I'm not going to tell Kyle," Long said.
NOTES: Fisher said he has yet to decide if WR Wes Welker, who signed earlier in the week, will play Sunday. "We have some things in the offense for him," Fisher said. "The ball's not necessarily designed to go to him, but it may if he plays." ... Several members of the military were on hand to watch practice. Fisher said military personnel will be honored at Sunday's game.