Quentin Groves, ex-Jaguars draft pick out of Auburn, passes away at 32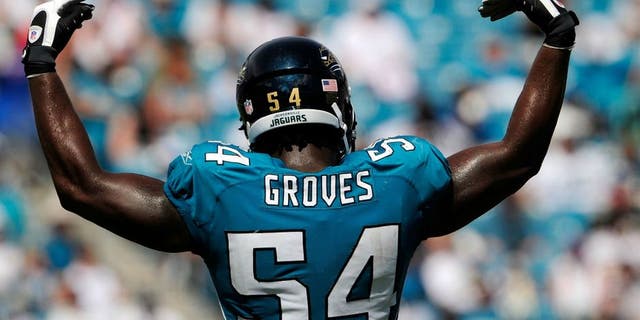 NEWYou can now listen to Fox News articles!
Quentin Groves, a second-round pick of the Jacksonville Jaguars out of Auburn in 2008, reportedly suffered a heart attack and died at age 32.
The former All-SEC star was in Trinidad celebrating his daughter's birthday at the time of his death, according to a source. Details surrounding his death are not known at this time. Auburn later confirmed Saturday afternoon the report of Groves' death.
Groves, 32, is survived by his wife, Teska Baptiste, a former member of Auburn's track team, and his children.
Grove was diagnosed with Wolff-Parkinson-White syndrome, which is associated with a rapid heartbeat related to electrical impulses in the heart utilizing additional pathways.
"It's an extra circuit in the heart, and it speeds up your heartbeat, it's nothing too critical, but you have to take care of it," Groves said in 2008.
Groves underwent heart surgery for a procedure called an ablation. He was cleared by doctors to play, but many teams still questioned whether he was healthy enough to play.
He played on seven NFL teams from 2008-15, spending two seasons on a practice squad. He finished his NFL career with 175 tackles, two interceptions and 9.5 sacks.
Groves was a first-team All-SEC pick at Auburn in 2006. He holds the record for sacks in a game with four, and is tied for the program's career sacks record with 26.
Condolences came in via social media: