Qualifying results for Sprint Cup championship race at Homestead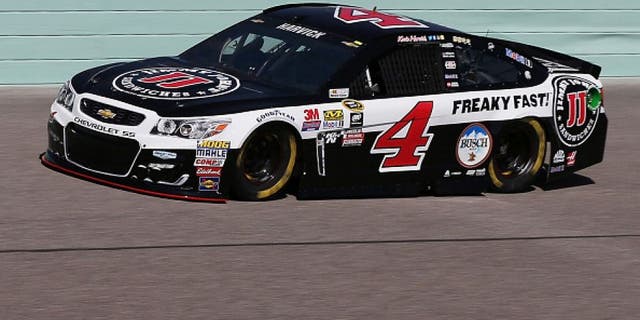 With a NASCAR Sprint Cup Series championship on the line, 2014 series champion Kevin Harvick won the pole for Sunday's season-ending Ford EcoBoost 400 at Homestead-Miami Speedway.
Harvick, who was knocked out title contention last week at Phoenix, ran a lap of 177.637 miles per hour in his No. 4 Stewart-Haas Racing Chevrolet to earn his second pole of the season and the 17th of his career.
"That's awesome. I didn't know if we had a chance at the pole with as fast as the No. 24 (Chase Elliott) had been," said Harvick. "But I knew if we could just run the same speed every round, that is half the battle because you never know how much it is going to slow down for everybody else, and it doesn't take much to make a mistake."
And make no mistake, Harvick wants to win on Sunday, despite not being in the championship hunt. "No participation trophies," he said.
Brad Keselowski, who like Harvick is tied for the series lead with four race victories but is not a championship contender, put the No. 2. Team Penske Ford on the outside of Row 1, running 177.538 mph.
"It's kind of fitting that it's the 4 (Harvick) and the 2 (Keselowski) in the front row," said Keselowski. "I think we've been the two best cars all year. We might not be in the Chase, but it kind of shows the strength of those two teams."
On Row 2, Ryan Newman will start on the inside, flanked by Denny Hamlin, with rookie Chase Elliott completing the top five.
In Sunday's race, Jimmie Johnson, Kyle Busch, Carl Edwards and Joey Logano will decide the championship, but none of them qualified especially well. Busch was the best of the bunch in ninth, one position ahead of his Joe Gibbs Racing teammate Carl Edwards.
The big shock was Johnson, who nearly didn't advance to the second round of qualifying for the first time all season long. Johnson had a slow first qualifying lap in Round 1 and when he went out a second time, Landon Cassill spun out to bring out a red flag.
Finally, Johnson got a run in during the last minute of Round 1. When it was over, Johnson was 22nd fastest with more laps on his tires than the other three Chase drivers. Ultimately, Johnson qualified 14th, worst of the four Chasers and one position behind Logano.
"I am sure none of us are going to stay back there very long," said Logano. "When this race starts we will all have to move up forward and possibly have to win this race. It has come down to that the last few years and I would expect the same once again."