Pujols speaks openly about injury frustration, impact on his future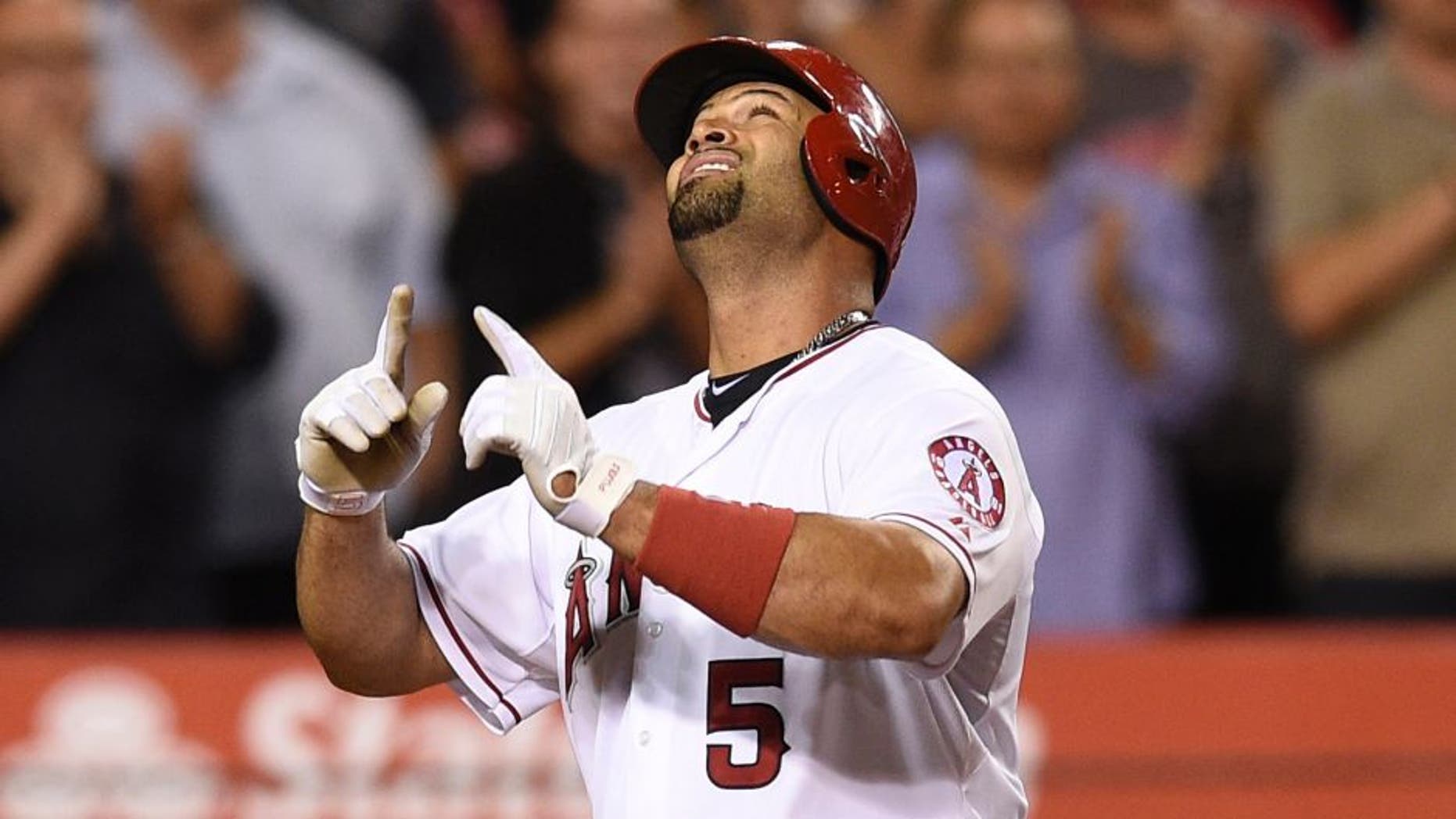 The Los Angeles Angels are relying on Albert Pujols for his offensive presence, even as the 35-year-old is having issues relying on his own body.
MLB.com's Alden Gonzalez spoke with Pujols earlier this week about how he's playing through pain and doing whatever it takes to be able to go for the Angels on a daily basis. An injury to his right foot sustained on August 28 has dogged him ever since, and he admitted it's causing him significant frustration.
"It [stinks]," Pujols told Gonzalez, "because I can see my numbers going down and I'm not producing the way that I want to."
Pujols went on, explaining that it would 'bother me for the rest of my life' if he allowed his balky foot issue to end his season prematurely. However, as Gonzalez points out, Pujols is hitting just .157/.255/.258 since the injury.
It's forced Pujols to rely more on his upper body strength than ever before, as the foot renders him incapable of pushing off with his back foot to generate power.
Ever since joining the Angels with a lofty free-agent contract, Pujols has maintained that he won't necessarily stick around past his expiration date and become a detriment to his team. Rather, he's hinted that he'd walk away from the game if his body refused to cooperate with the rigors of being an MLB player.
When asked by Gonzalez about his thoughts on the remaining six years of his contract, Pujols spoke openly: "I don't know. I know what I would love to see happen -- hopefully we can win a couple of championship rings. I would love to see that happen before I'm done playing this game, but I don't know. To me, it just all depends how I feel. I'm at the point right now where my kids keep asking for Dad. They want me there every day. I don't know."
At the same time, Pujols remains confident that he is an above-average player when his body allows him to play at 100 percent. He's approaching 3,000 hits and 600 home runs for his career, but he also doesn't intend on wearing out his welcome, so to speak: "It can happen. It can really, really happen. But what if I can't do it anymore? Am I going to force it, to go try? Is it worth it to try and deal with injuries? Because it is frustrating. It's dreadful. You go through some injuries during the season that make you think, 'Do I want to keep doing this?'.... It's frustrating -- especially when you know what you're capable of doing."
For now, he'll continue to play through the pain and hope to help the Halos in their last-ditch effort to sneak back into the Wild Card chase. After that, he'll presumably try his best to condition his body during the offseason and hope for better health results next season and beyond.