Pujols Homers, Big Papi Tells Critics to Relax about Albert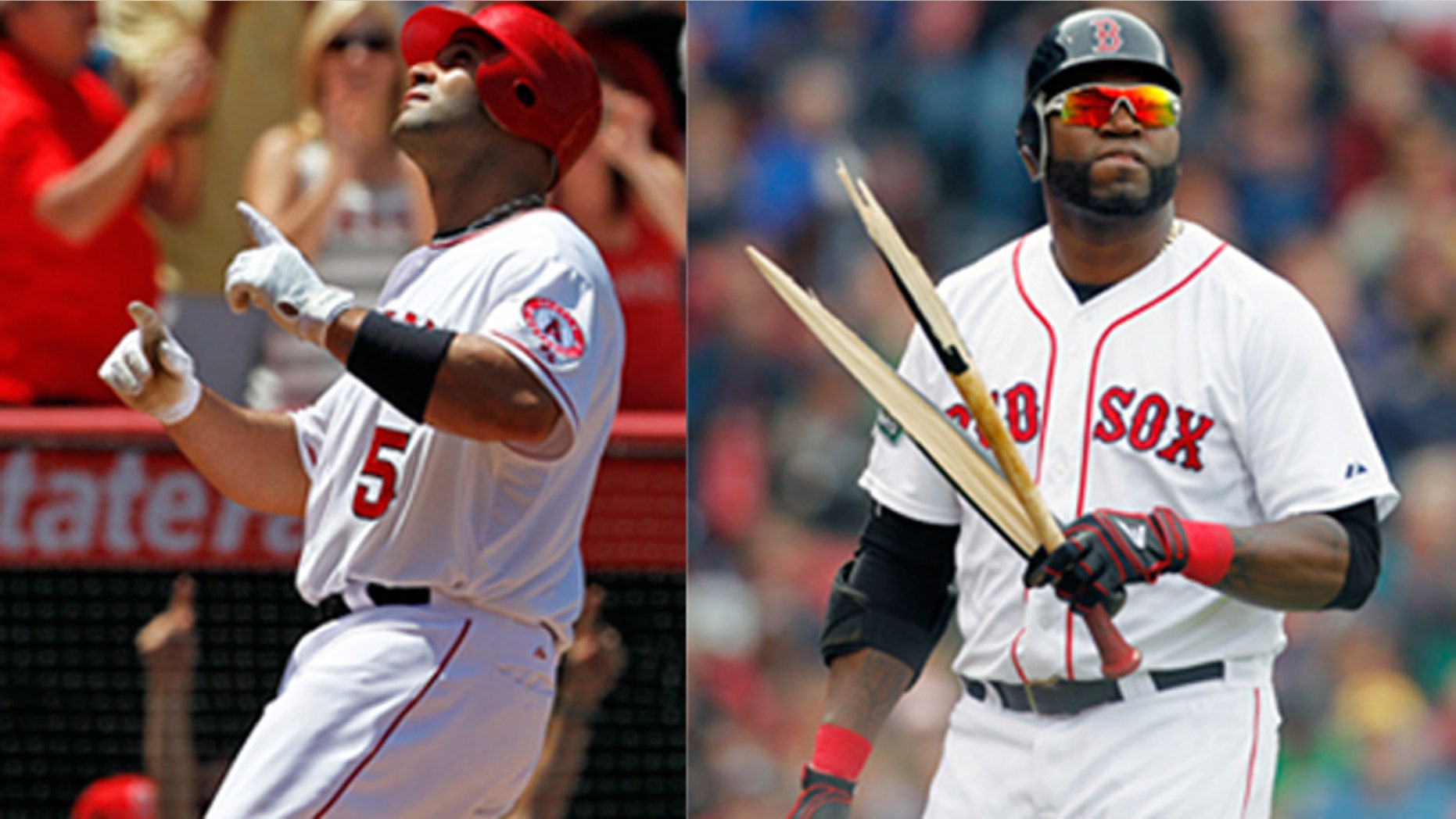 David Ortiz knew all along that Albert Pujols would eventually hit one out the park but unlike everyone else he was being patient with his friend.
Pujols finally hit his first home run of the season Sunday afternoon, smacking a 2-2 pitch over the left field fence at Angels Stadium.
His two-run blast in the fifth inning was the first home run in 33 games and 139 at-bats for Pujols, the longest stretch in his career dating back to last season. His last homer in a regular season game on Sept. 22, 2011.
Over the past few years, David Ortiz has not been a stranger to bad starts in April, in a way much similar to what the Los Angeles Angels slugger and friend had been experiencing.
Pujols failed to go deep in 23 games and 92 at-bats last month, the first time he's ever done so in the month of April after blasting 445 home runs and hitting .328  with the St. Louis Cardinals in the first 11 years of his career.
Home run No. 446 came on his 28th game and 111th at-bat of the season.
"Alberto is going to be OK. Alberto is going to be fine. Alberto was born to hit. A bad month in his career. Come on now. That's the worst month that he will have in his entire career," Ortiz told Fox News Latino.
The charismatic Red Sox designated hitter said that the fans and media were making too much out of the fact that his compatriot from the Dominican Republic had yet to hit a home run through the first four weeks of the season.
"People are desperate [for stories] and it's OK. This is baseball and it comes in a squared box," said Ortiz. "People think they just feed it to you and say 'go hit'. No my brother, this is a continuous job."
Ortiz went through a tough April last season. He did hit .267 but only hit two home runs and drove in 11 runs. April in 2010 was much crueler as he hit a woeful .143 with just one home run and four RBI.
People need to wait and let Alberto settle himself in the league. Alberto is seeing new pitchers. He is in a new place.
Red Sox Nation and critics were dismissing Ortiz, saying he was done but he still found a way to defy the skeptics and display the ability that's made him one of the most feared hitters in the game.
The same boos that Pujols had been hearing as of late from the home crowd, including a few after one at-bat yesterday, greeted Ortiz during his tough stretches in the past.
"It's a 162 games through which you have to maintain perseverance. That's why you see the consistency in players like Alberto and myself ...  is maintained because at one point we find what we're doing wrong and we resolve it," said Ortiz.
Ortiz's words of advice for those trying to rush Pujols to blast more out the park for an Angels team that opened up its wallets and coughed up $240 million over 10 years this past winter? Just chill out.
"People need to wait and let Alberto settle himself in the league. Alberto is seeing new pitchers. He is in a new place," said Ortiz.
The 36-year-old Ortiz just capped of his best April ever, a .405 average with 34 hits.
"You know I've been here for a while doing my thing here," said Ortiz.  "Take me out of that lineup and you'll see where that mambo is at. You know who's the one supplying the power."
Adry Torres, who has covered MLB, NFL, NBA and NCAA basketball games and related events, is a regular contributor to Fox News Latino. He can be reached at elpiloto137@gmail.com or follow him on Twitter: @adrytorresnyc
Follow us on twitter.com/foxnewslatino
Like us at facebook.com/foxnewslatino