Pronger skates, status for Game 1 still unknown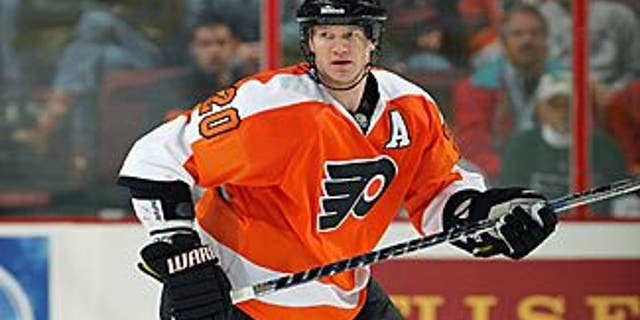 VOORHEES, N.J. -- Philadelphia Flyers All-Star defenseman Chris Pronger took part in a brisk, 50-minute skate about an hour before his teammates took the ice Tuesday morning, but did not take part in the full team workout, leaving lingering questions about his status for Game 1 of the team's Stanley Cup Playoff series against the Buffalo Sabres (7:30 p.m. ET, TSN, VERSUS).
Pronger skated with other injured defensemen Matt Walker and Oskars Bartulis, as well as Ian Laperriere, who will serve as an assistant coach working with the playoff scratches.
Pronger had a stick in his hands, but did not handle a puck, instead doing skating and coverage drills.
Game 1 Thursday will mark exactly one month since he had surgery to repair a broken bone in his right hand. At the time, the Flyers predicted Pronger would miss 3-4 weeks.
Pronger originally hurt the hand Feb. 24 against the New York Islanders when he was hit by a shot. He missed one game, returned to play four games, but re-injured his hand during a win against the Edmonton Oilers on March 8. He hasn't played since.
Knee, foot and hand injuries limited Pronger to just 50 games this season, the fewest he played since 2002-03, when he was limited to just five games due to a knee injury. He had 4 goals and 25 points, while leading the team with an average of 22:29 per game of ice time.
He was a huge piece of the Flyers' run to the Stanley Cup Final last season, leading all players with an average ice time of 29:03 per game, and his 18 points led all defensemen.
If Pronger can't play in Game 1 Thursday, he'll have another chance for Game 2 on Saturday (5 p.m. ET, TSN). The series will shift to Buffalo for Games 3 and 4 on April 18 and April 20.
Contact Adam Kimelman at akimelman@nhl.com. Follow him on Twitter: @NHLAdamK