Preview: Brewers vs. Padres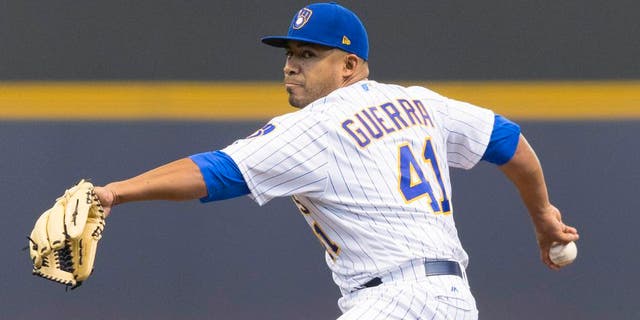 NEWYou can now listen to Fox News articles!
For the last four seasons, Miguel Diaz honed his craft in the Milwaukee Brewers' farm system.
Friday night, he'll get a chance to show them how far he has come.
But when he takes the mound at Miller Park in Milwaukee, it won't be as a member of the Brewers. Instead, he will pitch for the San Diego Padres, who come to town for a three-game weekend series.
San Diego selected Diaz, who was 1-8 with a 3.71 ERA in 26 appearances (15 starts) last season for Class A Wisconsin, in the Rule 5 draft in December. He began the season in San Diego's bullpen, going 1-1 with a 7.50 ERA in 21 appearances and a 2.31 ERA since May 6.
Manager Andy Green moved him into the rotation June 10, when he worked two scoreless innings with a strikeout against the Royals.
"Now he's on a regimented schedule where I think we can start to see and expect some real progress in him," Green said. "I'm excited for what he brings. Do I expect him to go five innings next time? No, probably not, not at this point in time. But I expect him to continue to move toward that; and, before this is all said and done, I expect him to be well beyond that."
He worked three scoreless innings against Milwaukee on May 16 in San Diego, allowing two hits and a walk while striking out two.
The Padres will be well-rested after arriving in Milwaukee on Wednesday night and enjoying a day off Thursday, while the Brewers will be looking to keep their momentum rolling after rallying late for a 6-4 victory at St. Louis, where they took a series from the Cardinals for the second time this season.
They return home still sitting atop the National League Central, 2 1/2 games ahead of the second-place Cubs.
"It's pretty cool -- the fact that a lot of people thought that we'd be in first for a week and then fall off," said first baseman Eric Thames, whose home run with two outs in the ninth inning Thursday broke a 4-4 tie. "But it's a whole new team. You feel the confidence, you feel the mojo. A lot of new faces, young faces.
"I'm excited; everybody's excited. Let's keep rolling."
It'll be up to Junior Guerra to set the tone as he takes the mound for his sixth start of the season.
He pitched well but took a loss his last time out, holding the Diamondbacks to three runs on five hits over six innings.
"I thought he pitched well," Brewers manager Craig Counsell said. "He battled like he always does. He pitched himself out of jams. A solid outing for sure."
The three runs were the most allowed this season by Guerra, who missed six weeks after suffering a strained calf three innings into his first career Opening Day start. Overall, he's 1-1 with a 2.45 ERA this season.
He has faced the Padres twice -- both times last season, going 1-1 with a 3.60 ERA.