Pressure is the only thing standing between Argentina and a trophy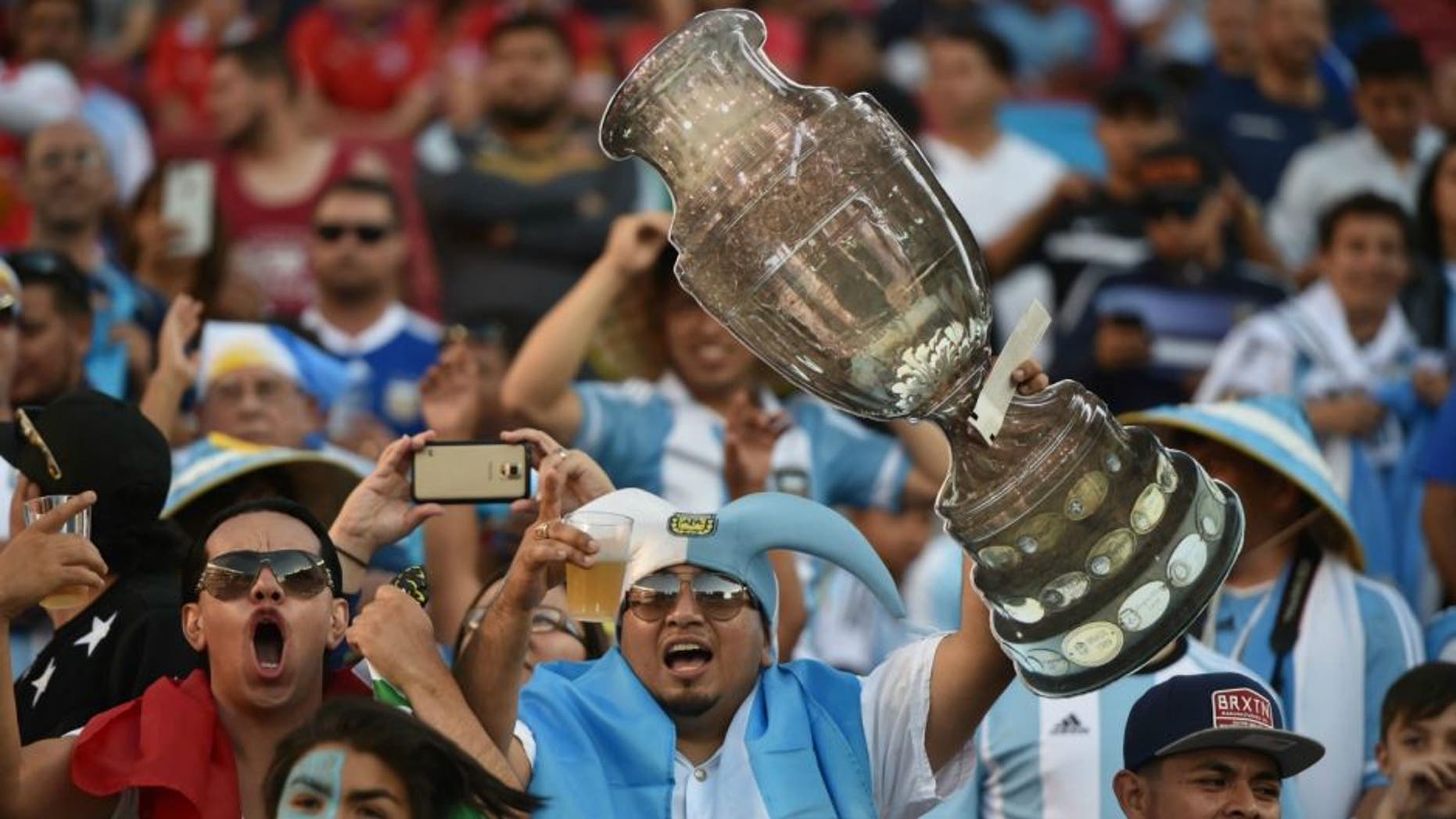 Argentina enter the Copa America Centenario final carrying the weight of a 23-year title drought. And that drought is significant, as is the pressure that comes with trying to end it because it's probably the only reason to think that La Albiceleste might lose to Chile on Sunday night.
That's not to say Chile aren't a good team and don't have a chance. They're an excellent team and are in sterling form. Alexis Sanchez has found his footing in the tournament and Arturo Vidal is playing as well as ever. Chile were even good enough to beat Colombia in the semifinals despite Vidal missing out due to suspension. Mix in a breathtaking press that turns matches a chaos that only Chile are comfortable in and it's no wonder that La Roja have torn apart most every team they have come up against. But Argentina are not one of those teams.
Argentina have had the upperhand on Chile for the better part of five years now. La Albiceleste beat La Roja 2-1 in the Copa America Centenario opener, cruising past Chile despite playing without Lionel Messi. They also went to Chile and came away winners in World Cup qualifying three months ago. And in qualifying for the 2014 World Cup? Argentina won twice, out-scoring Chile 6-2.
The one time Chile got Argentina was in last year's Copa America final, which was on home soil and even then, it took penalties for La Roja to win it. Because penalties and extra time are the only ways teams can beat Argentina.
The last time Argentina lost a match in regular time at a major tournament was in the quarterfinals at the 2010 World Cup. That was 22 matches ago. Since then, their only eliminations have come on penalties -- twice -- and in the second half of extra time at the 2014 World Cup final.
It's no surprise that Argentina are the No. 1 ranked team in the world, and while the FIFA rankings are flawed, La Albiceleste look every bit the part of the best team on Earth. They've made it to major tournament finals in three consecutive years, so they're matching up with the best in the world without issue. They're led by the world's best player in Lionel Messi, pacing an attack that is complemented by a defense that has allowed just two goals in their last nine knockout stage matches.
To say that Argentina have been dominant in tournaments would be an understatement. They've out-scored opponents 18-2 at Copa America Centenario and beat teams by a combined 10-3 at last year's tournament. They're not just beating teams -- they're demolishing them.
But they haven't won a trophy. As good as Argentina have been, that trophy case has still gone untouched for 23 years now. That's not lost on the players, who have heard about their inability to capture a title time and time again. Diego Maradona has gone as far as saying that if Argentina don't beat Chile, they shouldn't bother returning home. And while that can be laughed off as Maradona being, well, Maradona, the sentiment isn't exactly unique.
The pressure for Argentina to win is very real and very intense. It's the biggest thing going against them because, frankly, there isn't much else. They're the best team in the world and an outright freight train that has run over anyone in their way for years now. But that will be downplayed as long as they're trophy-less because that's how people see them. That is unless they can beat Chile. Then they can finally be acknowledged as the best team in the world. And champions.
MORE FROM FOX SOCCER