Predators on brink as Rinne struggles again in Pittsburgh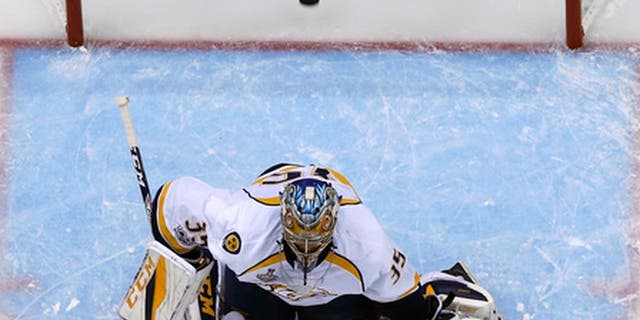 NEWYou can now listen to Fox News articles!
PITTSBURGH (AP) Pekka Rinne's struggles in Pittsburgh have his Nashville Predators on the brink of elimination.
The Penguins overwhelmed Rinne and the Predators again, sending Nashville's star goaltender to the bench in Pittsburgh for a second straight game in the Stanley Cup Final. He was pulled after the first period by coach Peter Laviolette after surrendering half the goals in a 6-0 rout by the Penguins in Game 5 on Thursday night.
The Predators are in a 3-2 hole with Game 6 coming up Sunday night in Nashville.
"It wasn't good," Laviolette said. "It's not the first period that we were looking for and it didn't really get much better after that. Definitely things we could've done better defensively."
Nashville rallied from a 2-0 deficit to tie the best-of-seven series and the home team has won all five games. Nashville is also a comfortable 9-1 in the playoffs at home, and teams that lost Game 5 of a tied Final have won the Stanley Cup four of the last eight times, including Pittsburgh in 2009.
But the Predators had little to enjoy from this one.
Phil Kessel scored his eighth of the playoffs and added two assists, while Sidney Crosby tallied three assists. Evgeni Malkin scored his 10th and had an assist, while Ron Hainsey also had a goal and an assist. Justin Schultz, Bryan Rust and Conor Sheary also scored for the Penguins, who have outscored Nashville 15-4 in Pittsburgh.
Rinne made six saves on nine shots, while Juuse Saros, making his second career playoff appearance, stopped 12 shots.
It was a familiar showing for Rinne: The three-time Vezina Trophy finalist allowed eight goals on just 36 shots during the first two games in Pittsburgh.
Rinne, the playoff leader in wins and goals-against average, rebounded in a big way for Games 3 and 4 in Nashville, limiting Pittsburgh to a just two goals on 52 shots as the Predators evened the series.
But Rinne struggled again Thursday in Pittsburgh, a place where he's never started and won in six career games. He gave up two goals in the first 6:43 of the game and it never got better.
"Obviously not the start you want to have," Rinne said. "It seemed hard for us to get anything going. Right now we've just got to focus on Game 6 at home and put all our energy in that one."
Rinne is now 1-8-2 lifetime against the Penguins -- his lone win came in relief at Nashville -- and he owns a career 5.15 goals-against average and .822 save percentage in Pittsburgh. Rinne has allowed 11 goals on 45 shots in seven periods of play during the Stanley Cup Final in Pittsburgh.
"We've got to be better in front of him. … I don't think that necessarily they were bad goals," Laviolette said. "Our guys have a tremendous amount of confidence him. We just have to do a better job in front of him."
Crosby started the first-period surge for Pittsburgh when he split Roman Josi and Ryan Ellis on the opening shift of the game and hit the post. That shift led to a Predators' penalty and the game's first goal on Pittsburgh's ensuing power play, as Schultz beat Rinne with a point shot that went between his pads.
Rust beat Rinne to the glove side with a backhander a little more than five minutes later and Malkin made it 3-0 with 10.2 seconds left in the first period.
Saros relieved Rinne to start the second, but Pittsburgh upped its lead to 4-0 just 1:19 into the period on Sheary's goal from Crosby. Kessel scored his first in six games, making it 5-0 later in the period, while Hainsey capped Pittsburgh's second three-goal period of the game.
--
More AP NHL: http://apnews.com/tag/NHLhockey