Predators must rein in physicality as West series shifts to Nashville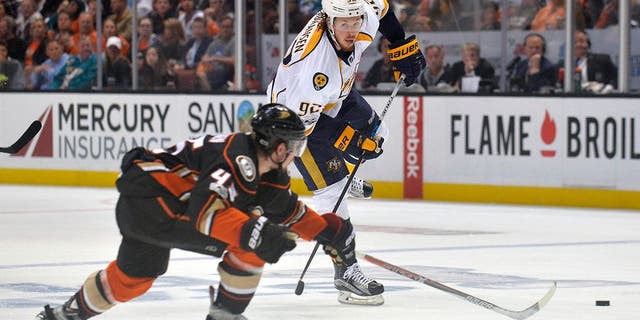 Nashville wasn't going to be a picture-perfect team throughout the Stanley Cup Playoffs, so a stinker was bound to happen sooner or later.
You just didn't expect it after the Predators had built a 2-0 lead in the first 18 minutes of Sunday's Game 2 of the Western Conference finals against the Ducks.
Again, though, the story isn't necessarily about how the Ducks came back to tie and ultimately win the game 5-3, but about Nashville's inability to control the puck when it needed to.
Down one goal late in the third period, the Predators had four separate face-offs in the offensive zone, but came away empty-handed four straight times -- two of which came directly off icings, but all four were lost by Ryan Johansen. The fourth draw resulted in an Anaheim empty-net goal just nine seconds later.
After Game 1, the focus was on face-offs being something that Nashville needed to key on as the series continued. After Game 2, we're still talking about it. Yes, it was better, but Johansen took the place of Mike Fisher as the face-off goat, ultimately losing 16 of his 26 attempts from the dot.
It's not the only reason this series is tied coming back to Tennessee. The Predators did a solid job for most of Game 1 and the first period of Game 2 in clogging up the neutral zone. After a late power play goal to cut the score to 2-1, and some key intermission line-up shuffling from Ducks head coach Randy Carlyle, Anaheim was able to slice through Nashville's coverage like butter on toast.
Add in a dose of heavy physicality, more so than we saw in Game 1, and the Predators were effectively drawn off the style of game that they prefer to play into an environment that the Ducks excel in.
Anaheim's Ryan Kesler, who's always been one for getting under the skin of the opposition, may have took it to another level against Johansen on Sunday night. While Johansen has the clear edge on the scoresheet, Kesler has ramped up the physicality ten-fold -- most notably getting away with a nasty elbow to the head of Johansen. As the physical play between the two exponentially increased in the second and third periods, it pushed Johansen over the edge.
"He just blows my mind," said Johansen to media members after Game 2. "I don't know what's going through his head out there. His family and friends watching him play, I don't know how you can cheer for a guy like that. It just doesn't make sense how he plays the game. I'm just trying to go out there and play hockey and it sucks when you have to pull a stick out of your groin every shift."
That is such a heavy quote, mostly for two reasons -- it propels this series into a war of words while also giving Kesler some level of justification for what he does on the ice.
For better or worse, Kesler's attempt to get under the Predators' collective skin so far has been a success. It's not often you see one of Nashville's top players decide to go full bore and address it with the media afterwards, but here we are. That's not where you want to be after two games.
Will it result in a different bit of officiating in Game 3? Quite possibly. The matchup of both Kesler and Johansen will certainly draw the attention of the officials as this series continues.
Ultimately, what's important is that the Predators rein in the physicality as the series shifts back to Nashville. They won't be able to shut it down completely, but it's a necessity to match Anaheim's push with one of their own.
Continue to improve on face-offs, get back to clogging the neutral zone and make the Ducks chase the puck instead of driving it uncharacteristically past the blueline.
Just as it was after Game 1, small corrections for Nashville will determine the outcome of Game 3. It's just a matter of how the Predators will respond, seeing as this series could get ugly on both the ice and scoreboard if they do so in the wrong fashion.