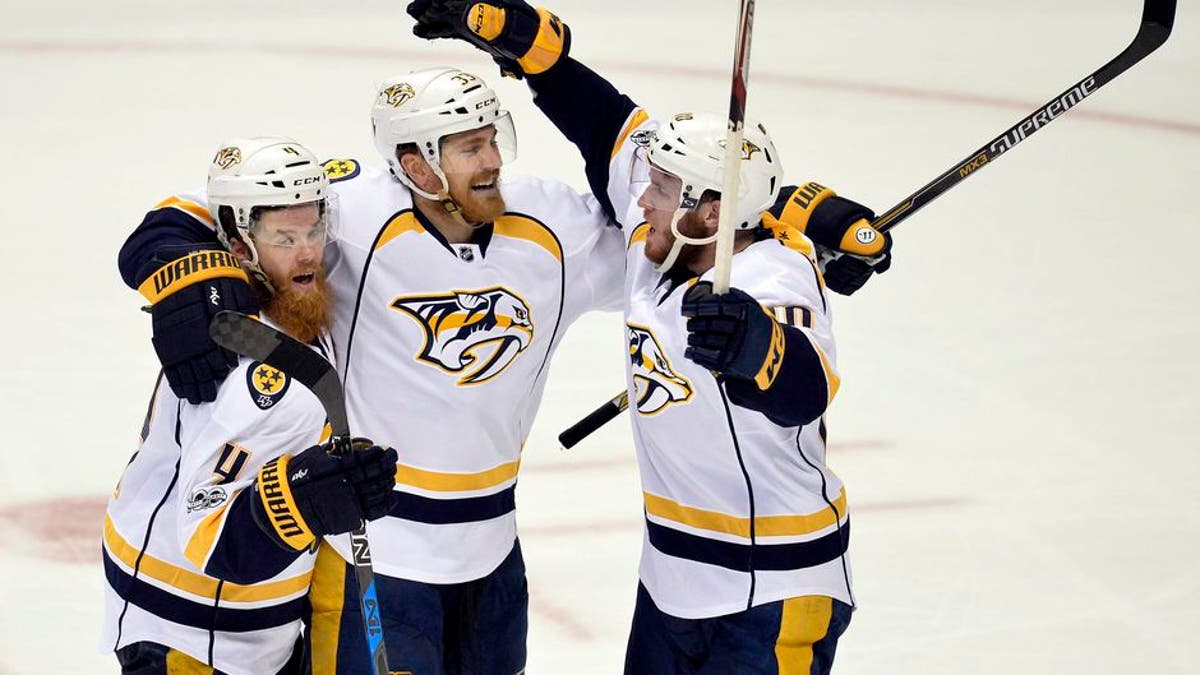 As Nashville entered a pivotal Game 5against the Anaheim Ducks sans top centers Ryan Johansen and captain Mike Fisher, the feeling surrounding the team was one that trended less towards optimism and more towards well, glad we made it this far.
Yet, as we sit here and reflect on what happened Saturday night in Anaheim, its safe to say that none of us could have truthfully predicted the course of events.Not even you, guy who said Pontus Aberg would score the game-winner.
With Johansen and Fisher out, Peter Laviolettes resolve would firmly be tested. Could he restructureNashvilles lines and still pull out a win against a Ducks core that was chomping at the bit?The famed JOFA line? Broken up for the first time in months. In fact, the Predators lineup was fashioned in the shape of a potential preseason game:
Forsberg-Sissons-Aberg
Wilson-Gaudreau-Watson
Arvidsson-Jarnkrok-Neal
McLeod-Fiddler-Salomaki
Four lines that had as much possibility of blowing up in the face of the Predators as pulling out a Game 5win.Regardless, Nashville found a way to win.
Thats been the prevailing theme this postseason for the Preds it doesnt matter whos on the ice on any given night, but what the team can do when they all work together.
We're confident with whoever we have on the ice, Predators defenseman P.K. Subban said. For the majority of the time, obviously, just like any other team, we try to get certain matchups, but we're confident with rolling four lines, and we're confident it all our players when they're on the ice.
I think for us it's depth to our lineup, and I've said this a lot during the playoffs, but a key word for our hockey club has been composure, and we've shown that all the way through the playoffs and showed that again today.
The introduction of Frederik Gaudreau who was a force with the Milwaukee Admirals this year, scoring 48 points in 66 games and the breakthrough of Pontus Aberg wasnt necessarily a revelation, but more so a sign a signal that Nashville has plenty of talent ready to contributeat the NHL level.
That level of depth has pushed them to within one win of a Stanley Cup Final berth.
Before Saturday night, Aberg couldnt find another level to his game. Being on a line with Fisher and Austin Watson primarily could have been the reason, as that line had primarily been deployed for defensive and neutral zone scenarios. Playing alongside the oft-dynamic Forsberg, however, tends to drastically change that.
And it did. Aberg scored possibly the biggest goal of his fledgling NHL career and helped Nashville shut down the opposition for the final eight minutes of regulation which came in conjunction with smacking his face on the ice just moments prior to scoring the go-ahead goal, losing a tooth in the process and being checked by concussion spotters afterwards.
Then you have the case of Gaudreau, who prior to Saturday had played a total of nine career NHL games and zero in the Stanley Cup Playoffs.
Being introduced via trial by fire, Gaudreau drew in with Watson and Colin Wilson on Nashvilles second line. More importantly, Gaudreau won 71 percent of his face-offs against one of the best face-off teams in the NHL.
He was a perfect 5-for-5 combined against Chris Wagner and Antoine Vermette, won one of threeagainst Nate Thompson and, most importantly, collected four of sixagainst Ryan Getzlaf.Just let that soak in for a moment: Gaudreau bested Getzlaf in the face-off dot. Thats not an easy thing to accomplish, especially in your first-ever NHL playoff game.
Thats exactly what the Predators have at their disposal right now unmatched depth and unbridled resiliency.
Nashville has always been a team thats been built to be resilient. From Barry Trotz on to Peter Laviolette, the Predators have never been a team to cower and let an opponent walk all over them. Even in those mismatched series against Detroit in seasons past, Nashville found a way to battle back and tie things up.
And now, on the second-biggest stage in the NHL, the Preds are a 60-minute effort away from being awarded their first trophy in franchise history along with the ability to finally hang a championship banner from their rafters.
Granted, its not the championship banner they prefer, but its a step in the right direction.
Just the fact that Nashville will be playing for a spot in the Stanley Cup Final isnt something that should be taken lightly. The players know this.
They won't.