Potentially New Racism Storm Hits English Soccer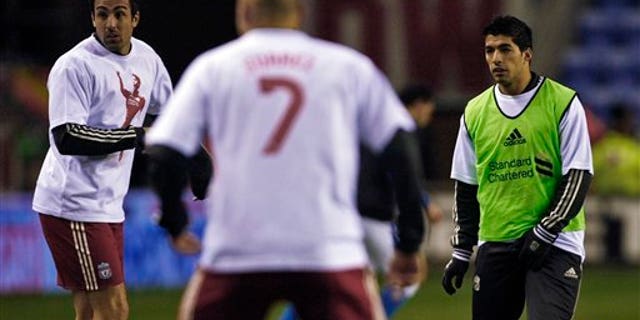 LONDON – Still reeling from high-profile incidents involving Luis Suarez and John Terry, English soccer is facing another possible case of racist abuse after a black player was reduced to tears by insults from fans during an FA Cup match.
Police officers were trawling through video footage and preparing to interview Oldham defender Tom Adeyemi, who had to be comforted by teammates and opposing players toward the end of a third-round match against Liverpool at Anfield on Friday.
Merseyside police have opened an investigation but said after the match that there has been neither a formal complaint nor an arrest on suspicion of racially aggravated behavior. Officials and players from both clubs wouldn't comment on whether the abuse was of a racist nature, and were awaiting updates from police.
Allegations were made, however, by former Oldham defender Reuben Hazell, who claimed he spoke to Adeyemi after the match.
"I went into the Oldham dressing room to catch up with my old mates and spoke to Tom Adeyemi directly about what the altercation with the fan was all about," Hazell said on Twitter. "He said he was racially abused by the fan. This is FACT."
Oldham captain Dean Furman urged authorities to take "heavy action" against the abusive fan.
"He was abused and I'll leave it to Tom and the police to investigate that," Furman told BBC Radio on Saturday. "What happened should not happen in the game.
"It has been highlighted over the last few months and it is an absolute disgrace."
Furman was referring to incidents involving Liverpool striker Suarez and Chelsea captain Terry that have lifted racism back to the top of English soccer's agenda.
Suarez was banned last month for eight matches and fined 40,000 pounds ($62,000) for racially abusing Manchester United defender Patrice Evra in a Premier League match.
The Uruguay international was found by an independent panel to have called Evra a "negro" or "negros" during the 1-1 draw at Anfield in October.
Suarez apologized on Wednesday for causing offense but has denied that his conduct amounted to a racist act. Despite a public outcry, Liverpool caused controversy by maintaining its support of the player, with the squad wearing T-shirts bearing his image and number in warmup ahead of a recent league game against Wigan.
Liverpool manager Kenny Dalglish is still incensed by the verdict on Suarez, with the club claiming the accusations by Evra have not been corroborated.
The case involving Terry is still pending. The England captain faces criminal charges about his alleged racist comments toward Queens Park Rangers defender Anton Ferdinand during a Premier League match at Loftus Road on Oct. 23.
Terry denies the charge but will appear in court on Feb. 1.
Hazell, who is black, said on Twitter: "It's time for this kind of behaviour to stop. This isnt acceptable in soccer or in society and its time 4 black players 2 show a stand like young Tom did."
Norwich, Adeyemi's parent club, spoke to the player after the match at Anfield to show its support and asked Oldham to keep the club informed of developments.
"Will pass on your support for Tom. He is ok," Norwich chief executive David McNally posted on Twitter.