Police clash with soccer fans protesting 3-0 score imposed before match, game abandoned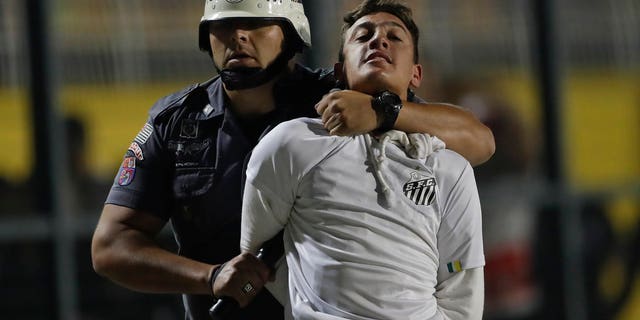 A soccer match between Santos of Brazil and Independiente of Argentina was abandoned after police clashed with furious fans of the home team.
Fans threw fireworks at the Independiente bench and tried to invade the pitch during Tuesday night's Copa Libertadores clash in Sao Paulo.
The referee was forced to abandon the game with 12 minutes remaining after fans stormed the perimeter fence and were forced back by police officers wielding batons.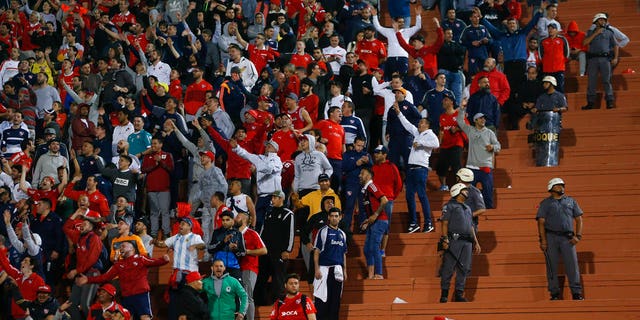 Some fans were able to scale the barriers and get onto the field, while others clashed with cops, with officers eventually resorting to using percussion grenades.
FORMER SOCCER STAR SAYS RAT ATE HIS FOOT WHILE HE WAS SLEEPING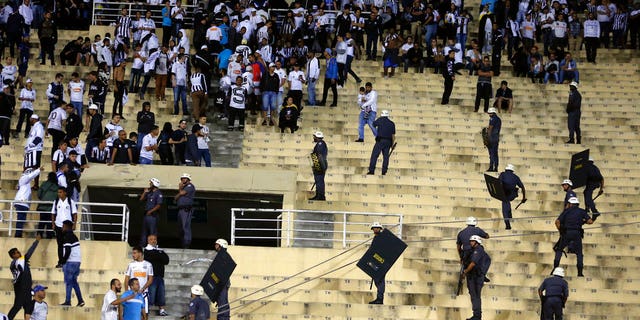 Santos fans had descended on the stadium en masse, buying the majority of 45,000 tickets for the game, expecting to see their team move on to the quarterfinals of the cup competition after a 0-0 draw in the first leg last Tuesday.
But hours before kickoff, CONMEBOL, the South American Football Confederation, ruled that Santos had fielded an ineligible player during the first leg, therefore awarding Independiente a 3-0 win.
CONMEBOL claimed the player, Carlos Sanchez, had not served the entirety of a ban he received in 2015 when he played for Argentine side River Plate.
SOCCER FAN'S CELEBRATION GOES VIRAL AFTER CEREMONIAL GOAL TO HONOR FATHER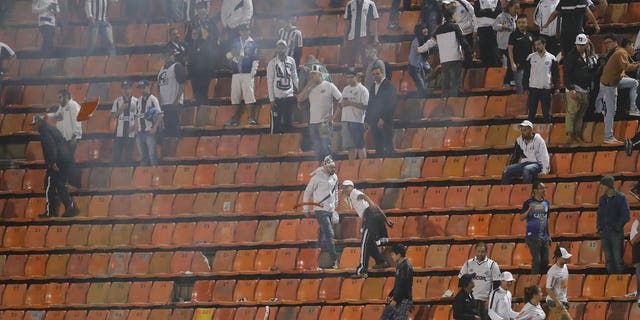 Santos however said they fielded the Uruguay international after CONMEBOL's own online system showed the player had no outstanding bans.
The Brazilian team had appealed the CONMEBOL ruling, and Sanchez was cleared to play in Tuesday's game, but the governing body ruled that the 3-0 score line should stand, infuriating the Santos faithful.
Rodrygo, a 17-year-old rising star who will sign for Real Madrid next year, was filmed by a fan on the field, calling CONMEBOL "sons of b****es".
Later he said: "I believe the fans did well."
"What happened [to us] was a disgrace, the fans were totally right in doing what they did today," he added.