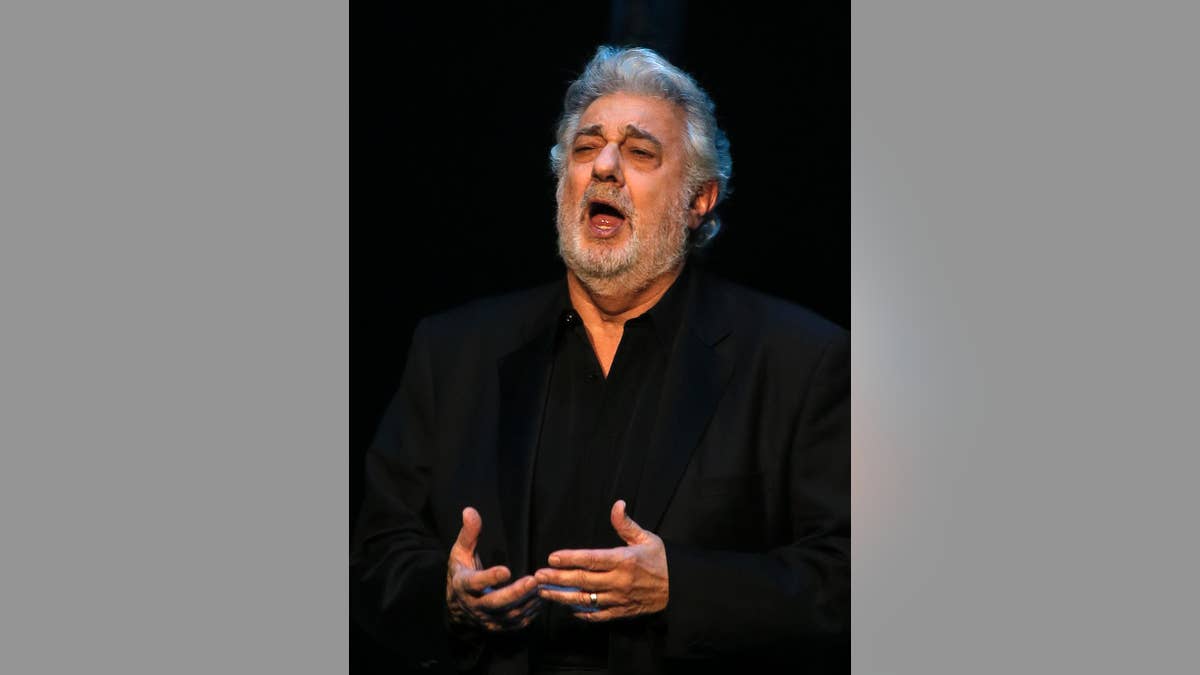 RIO DE JANEIRO – For Placido Domingo, opera and soccer go hand in hand.
The Spanish tenor has performed during almost every World Cup since 1990 and plans a July 11 concert in Rio de Janeiro, just two days before the city hosts the final game.
At a news conference Thursday aimed at promoting his show, Domingo talked more about his other passion — soccer — than the concert at the HSBC arena.
Domingo said that as a young man he played goalkeeper until a broken finger forced him to take up an offensive position. "But I just wasn't that good," he said, holding up a crooked index finger he called a "souvenir of my soccer years."
Even after he put away his cleats, Domingo remained passionate about the game, following hometown favorite Real Madrid with such unabashed devotion that the team's regal decal embellishes the cover of his smartphone.
Domingo is also a devout fan of Spain's national team, despite its abrupt elimination in the international tournament's first round, ending a years-long winning streak that saw it become both European and 2010 World Cup champion. The singer said the Spanish team "arrived in Brazil tired ... You could see they didn't have the energy."
With Spain eliminated, Domingo said he is rooting for five-time world champion Brazil.
"I'm going for Brazil, of course," he said, eliciting hoots of approval from local journalists. "If (they don't win) I think it's going to be a terrible blow for the public, for Brazil."
But Domingo was guarded about Brazil's chances. He said individual team members are "missing the united whole that ... used to play with happiness, without fear and with self-assurance."
Domingo said he'd also like to see a team that has never been the champion get to the final, but guessed that Brazil and Germany would play the last game.
Domingo is well-known as one of the celebrated "Three Tenors," with fellow Spaniard Jose Carreras and the late Italian Luciano Pavarotti. The trio made their debut on the eve of the final of the 1990 Cup in Italy and subsequently performed at the 1994 tournament in the United States, in 1998 in France, and finally in 2002 in Japan. Domingo performed with other singers at the 2006 Cup in Germany.
Because work required him to be in London during most of the 2010 Cup in South Africa, "I was only able to attend two matches," he said. "Fortunately those were two matches that Spain won and became world champions."
Domingo said his concert in Rio will include a selection of arias as well as Spanish zarzuelas, American show tunes, local Brazilian music by the likes of famed Rio-born composer Heitor Villa-Lobos and several popular sambas.
He said he chose to perform on July 11 because it's a World Cup rest day.
"It's one of the few days there isn't soccer in the whole month," Domingo said. "We chose that day so that the Brazilian public can take a break from football before the final melee."
___
Online:
Concert website: http://hsbcarena.com.br/canal/programacao/?programacao/14155/placido+domingo
___
Jenny Barchfield on Twitter: http://www.twitter.com/jennybarchfield