Pitching debuts of current Milwaukee Brewers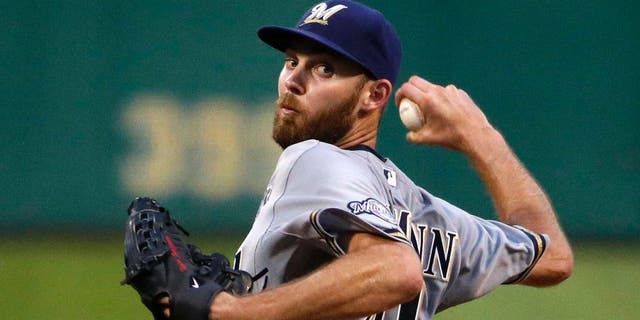 Zach Davies, acquired from Baltimore for Gerardo Parra at the trade deadline, will be making his major-league debut for the Milwaukee Brewers on Wednesday.
There is no common thread among first starts. Some pitchers do well, some don't. And how you do in that first start doesn't necessarily serve as a track for a major-league career. Still, Davies should hope his debut goes better than the initial start of some of his new teammates.
Here's how the debuts for the current Brewers pitchers (who have made starts) went:
Tyler Cravy
Debut: June 2, 2015 at St. Louis. Called up to make a spot start, Cravy pitched a strong seven innings, allowing one run on four hits with two walks and six strikeouts. Unfortunately, that one run was enough as the Brewers lost 1-0. Cravy is still searching for his first major-league win.
Matt Garza
Debut: Aug. 11, 2006 for Minnesota vs. Toronto. Garza lasted only 2 2/3 innings, allowing seven runs on eight hits with two walks and two strikeouts. He allowed home runs to Reed Johnson and Jason McDonald, the latter sending Garza to the showers. Things started off pretty well as Garza struck out two of the first three batters he faced -- including his first major-league encounter, vs. Johnson -- but then the wheels fell off.
Taylor Jungmann
Debut: June 9, 2015 at Pittsburgh. Like Cravy, Jungmann saw his first big-league action this season with the Brewers. He's been solid all season, so perhaps it won't surprise you (unless you already remember) that Jungmann allowed just one run in seven innings on three hits with one walk and five strikeouts in a 4-1 victory. A Starling Marte homer was the only scoreboard blemish. Jungmann is the only current Milwaukee starter (so far) to get a 'W' in his debut.
Kyle Lohse
Debut: June 22, 2001 for Minnesota at Detroit. Davies was 8 years old when Lohse first stepped on a major-league mound, pitching 6 1/3 innings and allowing four runs on nine hits with one walk and five strikeouts. He also hit a batter and served up a home run to Dean Palmer. Lohse got a no-decision but would beat the White Sox 4-1 in his next start.
Jimmy Nelson
Debut: Sept. 6, 2013 at Cubs. Nelson made his major-league debut in relief, pitching the sixth and seventh innings of an 8-5 Brewers loss. He retired all six batters he faced. Nelson would make two more relief appearances before getting his first start, in Milwaukee's second-to-last game of the season, at the Mets. He would go five innings, allowing one run on just one hit with three walks and four strikeouts. The Brewers would win 4-2, but Nelson would have to wait until the next season to get his initial major-league victory.
Wily Peralta
Debut: April 22, 2012 vs. Colorado. Called up for some bullpen help -- Peralta wouldn't pitch again for the Brewers until September -- he pitched one inning in relief (still his only relief appearance in the majors) and allowed one run on three hits with one strikeout. Peralta's first start came Sept. 5 when he earned the win in an 8-5 victory at Miami, allowing three runs in six innings.
Will Smith
Debut: May 23, 2012 for Kansas City at Yankees. Before he was a bullpen standout, Smith started 16 games as a rookie for the Royals. It didn't go too well for him in his first big-league appearance, as Smith allowed five runs in 3 1/3 innings on six hits with one walk and one strikeout. He also gave up three home runs, including two in the first inning to Curtis Granderson (the second batter he ever faced) and Alex Rodriguez (the fourth). A-Rod would go deep off Smith another time, as well.
Tyler Thornburg
Debut: June 19, 2012 vs. Toronto. Thornburg made three starts in his eight appearances as a rookie, including his first major-league appearance when he was called up to fill in for an injured Shawn Marcum. It turned out to be a slugfest won by the Blue Jays, 10-9. Thornburg lasted 5 1/3 innings, allowing five runs on seven hits with no walks and two strikeouts. Thornburg had allowed just two runs through five innings on a two-run homer by former Brewers farmhand Brett Lawrie. Then in the sixth, he served up back-to-back-to-back home runs to Colby Rasmus, Jose Bautista and Edwin Encarnacion. He wouldn't face another major-league hitter for nearly a month.
Follow Dave Heller on Twitter