PHOTO: Dan Campbell rewards Dolphins offense with sweet black jerseys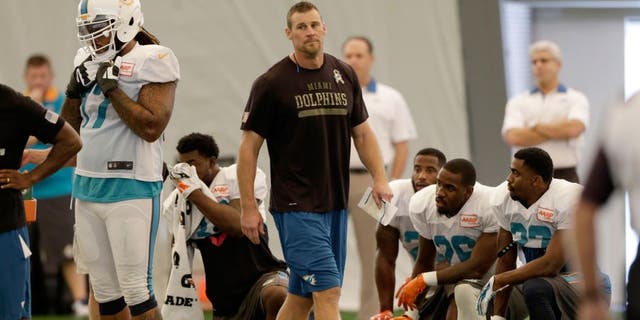 Black jerseys were all the rage at Dolphins practice on Thursday. Alan Diaz AP Photo
It didn't take long for interim head coach Dan Campbell to make an impact on the Miami Dolphins. He immediately made the team tougher with new practice drills and a change of culture, and he hasn't stopped just yet.
After blowing out the Tennessee Titans on Sunday, the Dolphins are back at practice and preparing for their next test against the Houston Texans. At Thursday's practice, the offense was treated to some new gear.
Campbell rewarded his offensive players with some sweet new black jerseys after beating the defense in practice on Wednesday.
Based on reviews from the players, they're more than happy to rock the snazzy new threads, while also having bragging rights at the same time.
"They're cool," Ryan Tannehill said via Chris Perkins of the Sun Sentinel. "I think it's a good changeup. It's adding to the competition. Offense won yesterday (Wednesday), so we get to wear the black jerseys today. It just kind of adds another piece to the puzzle when you're competing for something. We have [competed] for pride and bragging rights, but it adds another something to it."
Campbell got the idea from former Dolphins head coach Tony Sparano, for whom he was an assistant. Clearly it resonated with the now-Dolphins head coach.
"The winner gets to wear black for the day," Campbell said. "You ask those guys, 95 percent of them love it, just to be able to wear black."
Jealousy definitely plays a role for why Campbell instituted this reward system. Why? Because players want the chance to wear the black jerseys, giving them reason to rub it in their teammates' faces.
"And so since they didn't win, and the offense came out in black today they were talking about how they looked like The Replacements, the offense," Campbell said. "So they were messing with them. So they're jealous. It was good."
Competition is something Campbell has focused on instituting in practice after saying there wasn't enough of it under Joe Philbin. It's safe to say he's done a great job of accomplishing that as the Dolphins are now playing with more passion and pride than they have all season.
MORE NEWS: Want stories delivered to you? Sign up for our NFL newsletters.