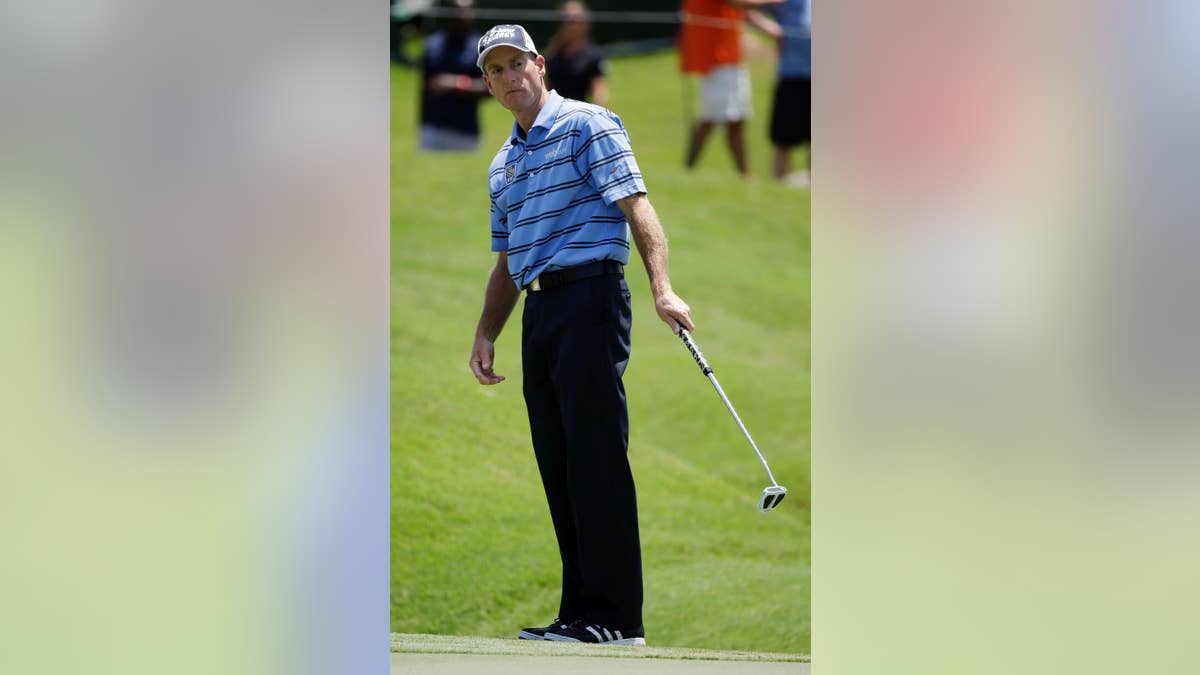 PONTE VEDRA BEACH, Fla. – Phil Mickelson can't seem to see the shots. He can't picture his putts going into the hole. And for the second big tournament this year, the only thing he will see of the final two rounds will be on television.
Mickelson only made three birdies, one short of making the cut Friday in The Players Championship. This weekend off comes a month after Mickelson missed the cut in the Masters for the first time in 17 years.
"I don't know what to say. I don't feel bad about the game, but mentally I'm just really soft right now," Mickelson said. "I'm having a hard time focusing on the shot. I'm having a hard time seeing the ball go in the hole. But the physical game doesn't feel bad. I don't feel bad about the way I'm hitting it. I don't feel like the misses are bad. I haven't driven the ball this well ever, but getting the ball to the hole, getting the shots close, getting the putts to go, I just haven't been able to do it.
"So I feel like it's more of a mental issue and I'll go home and see if I can work on it."
After a runner-up finish at Abu Dhabi in a European Tour event to start the year, Mickelson has not recorded a top-10 finish on the PGA Tour. He has never gone this deep into the season as a pro without recording a top 10.
Mickelson took 61 putts over two days. He played the par 5s in only 1-under for the two rounds. He didn't have many answers, and neither did the two guys playing with him. Dustin Johnson and Sergio Garcia were at a loss, too.
"To tell you the truth, it doesn't look like he's that far away," Garcia said. "Obviously, he struggled to make putts, which are always going to make your rounds tougher. ... If he makes maybe two or three more, we're talking about him being 3 or 4 under and he's right there."
Next up for Mickelson is the stretch run to the U.S. Open, the one major keeping him from the career Grand Slam. Mickelson will play the Memorial and in Memphis in the two weeks before going to Pinehurst No. 2.
___
HAVE JOB, HAVE FUN: Jim Furyk remembered his early years on the PGA Tour when he was leading a tournament with Wayne Levi and heard the former PGA Tour player of the year describe golf as a job.
"I was a young guy on tour," Furyk said. "I was thinking, 'This is the greatest job going.' I was thinking, 'Man, just shoot me if I ever get to the point where it becomes a job.' I might as well quit."
Late last year, his 20th straight on tour, golf felt like a job to Furyk.
"I had to figure out a way to make it fun again and to enjoy what I do, and it's not hard," Furyk said after a 68 left him four shots out of the lead going into the weekend at The Players. "I played this game my whole life because I love it."
But after so many years on tour, it became difficult to head to the airport knowing he would be missing baseball games, lacrosse games. Suddenly, it felt like he was getting in his car and driving to work. To his job.
He talked to his father, his wife, even to sports psychologist Bob Rotella. I switched up his schedule to be at only the tournaments he really wanted to play.
"I needed to go in with a much better attitude," Furyk said. "I think it's bred me turning around and being patient and kind of enjoying the game a little bit more again."
___
MAN OF SURPRISES: Adam Scott likes to keep his personal life to himself, which he proved Friday in a stunning revelation to Australian Associated Press that he got married on April 17, just four days after the Masters.
Scott married longtime girlfriend Maria Kojzar, a Swedish architect.
The big surprise this week has been his golf, though at least he gets two more rounds. Scott was in jeopardy of ending the longest active cut streak on the PGA Tour until he made a birdie on his final hole for a 67 to make it on the number. He now has gone 33 straight events in the money, a streak stretched over two years.
Now, he remains in the hunt to replace Tiger Woods at No. 1 in the world. Even though he barely made the cut, Scott was only five shots out of the position he likely needs to finish to reach the top of the ranking for the first time. He said that would not provide extra motivation.
"Just grind no matter what," Scott said. "Two rounds like today could go a very long way. You never know what conditions will be like and what this course can do."
___
THE SOFT EGG: Martin Kaymer now believes he can hit any shot required of him — fade or draw, high or low. He talks often about hitting the "brave" shot, and to do anything else would make him more of a "wimp."
He used the word "wimp" again when talking about how he and Darren Clarke played the 17th hole on Thursday.
All of which led to one question: What's the German word for "wimp?"
"Weiches ei," Kaymer said. "It's soft egg."
___
A GOOD BOGEY: John Huh made a bogey on the 17th hole and was elated.
Huh hit his tee shot over the green and into the water. He followed with an aggressive play from the drop area to 3 feet. But as he was taking a practice stroke, his putter nudged the ball. Huh paused, talked to his playing partners and called for an official.
"I don't think the ball moved, so I told rules official if he can check it out, if it moved or not. And it turns out it didn't move," Huh said.
He said his mark on the ball was in the exact same spot, suggesting that it wobbled but returned to the same spot. Officials confirmed that was the case, and Huh rapped it in for a bogey. Had it moved, he would have had to replace it with a one-shot penalty.
"I got away with a bogey there, even though I had water in my first shot," he said. "And that's what it is on 17, you know?"