Phil Kessel was incredibly frustrated throughout Game 2, and then he scored the game-winner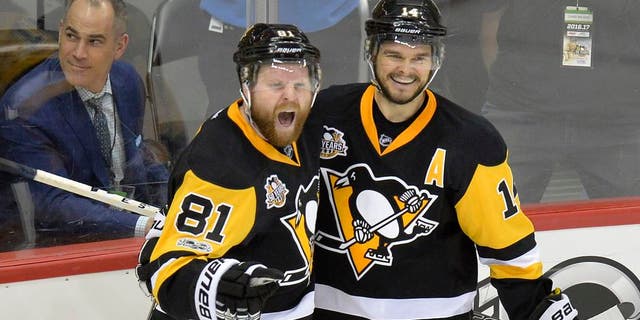 Phil Kessel spent most of Monday's Game 2 in Pittsburgh as the most frustrated player on the ice. By the end of it, he was the hero.
The Penguins winger was spectacularly animated throughout the night. After nearly every shift he would return to the Pittsburgh bench and grow increasingly discontent, often verbally communicating his unhappiness to others on the bench.
At a few points, Kessel and linemate Evgeni Malkin exchanged heated words of frustration. They got so worked up that Penguins coach Mike Sullivan had to step in and attempt to calm his players down. After the game, Sullivan seemed to embrace the fire that came from his guyson the bench.
Its hard to be ultra-competitive in the absence of emotion, Sullivan said, via the Post-Gazette. Emotion is the fabric of our game. Thats part of what makes our game as great as it is.
Do we have some exchanges on the bench? Sure we do, and we encourage it because I think it helps our game, Sullivan said. So just because a guy gets a little bit emotional, I think it helps our overall team game. I think progress is made. We call it a mans argument. Thats the way it is. I think lines go back and forth and talk to one another. I think it brings juice to the bench.
It's a lot easier to be coolwith tensions running high on the bench when those frustrations ultimately lead to results on the ice, as they did on Monday night.
In the third period, the Penguins finally managed to break a scoreless tie whenMalkin found -- who else? -- Kessel in the offensive zone and No. 81found the back of the net.
It wasn't the prettiest goal -- Kessel beat Senators goalie Craig Anderson on a second-chance opportunity after his initial shot was blocked -- but it was the only goal of the night and it helped the Penguins even the series at one game apiece.
Following the final horn, Kesselfinally felt a little bit of joy and couldn't help but smile while talking aboutthe way the game played out. The winger said he was emotional over the team's failure to execute on chances they had, but praised the resilience of their group.