Phil Jackson says Carmelo Anthony would be better off somewhere else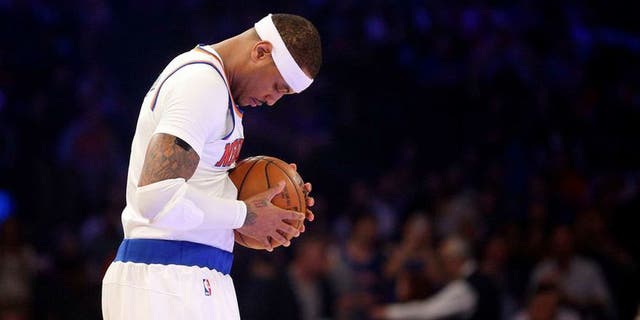 NEWYou can now listen to Fox News articles!
For a while now, its seemed like the New York Knicks and Carmelo Anthony areheaded for a split. On Friday, Knicks president Phil Jackson made it fairly clear that moving on from Anthonywould be best for both parties.
In his press conference, Jackson said Anthony is a player who would be better off somewhere else, leaving no doubt about how the team feels about Carmelos future in New York.
"I think the direction with our team is that he would be better off somewhere else, Jackson said, via ESPN. We'll take into account his consideration. This is not a situation we're going to dump you. We have not been able to win."
Since landing Anthony in 2011, the Knicks have made the playoffs just three times. This past season, they won just 31 games, the second-fewest since Anthony came over from the Nuggets.
As bad as Anthonys tenure in New York has been, Jacksons has been far worse. In his three seasons at the helm, the Knicks are just 80-166, including a 17-65 season in 2014-15 the worst in franchise history.
Jackson has driven a wedge between himself and Anthony this year, most notably by taking shots at the forward on Twitter. Anthony has said hes open to being traded this offseason, which seems like the most probable scenario.
However, Anthony has a no-trade clause and can nix any trade the team tries to work out for him.