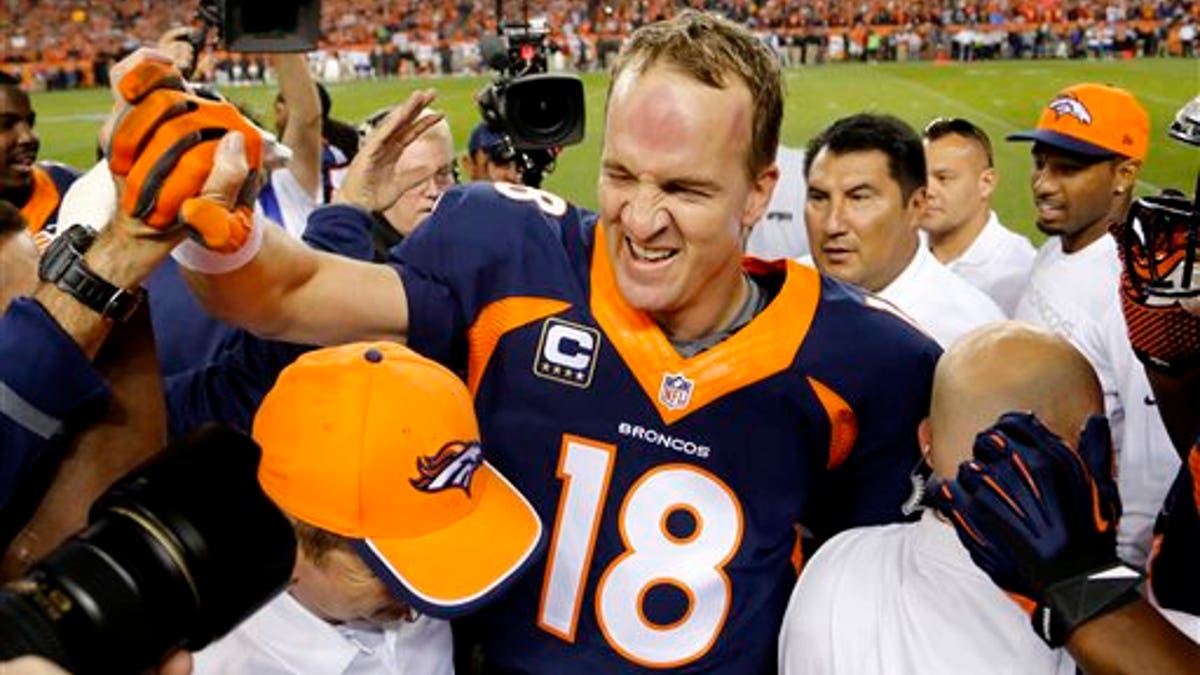 Peyton Manning threw three touchdown passes to break Brett Favre's career NFL record and the Denver Broncos led the San Francisco 49ers 21-10 at halftime Sunday night.
Manning threw an 8-yard scoring strike to Demaryius Thomas in the corner of the end zone for No. 509 with 3:09 remaining in the second quarter. Then, the celebration was on, but not before some good-natured ribbing from his receivers.
Thomas tossed the historic ball past Manning and to Emmanuel Sanders, who then lobbed it to Wes Welker. From there, Welker tossed it back to Sanders, who then threw it to Julius Thomas -- all of Manning's targets getting into the act.
Finally, the ball was handed off to Manning near the sideline as the crowd euphorically cheered. Favre and John Elway gave video tributes to Manning on the scoreboard.
Manning reached the milestone in his 246th regular-season game. Favre needed 302.
Colin Kaepernick guided the 49ers on a drive just before halftime that culminated with a 4-yard TD toss to Stevie Johnson.
Manning threw a 3-yard TD pass to Sanders and added a 39-yarder to Welker in the first quarter to match Favre at 508.
It didn't take long for Manning to settle into a rhythm in this game. The five-time NFL MVP was 7 for 7 for 111 yards in his first two scoring drives.
San Francisco scored midway through the second quarter on Phil Dawson's 22-yard field goal. Kaepernick almost had a TD pass on the drive, but Anquan Boldin took his eyes off a pass on a third-and-goal from the 4 and the ball fell to the turf.
Kaepernick and the 49ers went three-and-out to open the game. But the offense found some momentum on their next possession, driving to the Broncos 32 before stalling out. Dawson attempted a 51-yard field goal, only to have it sail wide left. Dawson entered the game 4 of 4 from 50 or more yards.
Denver tweaked its offensive line for this game, inserting Paul Cornick at right tackle for Chris Clark. Cornick was whistled for a false start penalty early in the game. He nearly got beat by Aaron Lynch on Manning's first TD toss, but held his block just long enough for Manning to deliver a strike to Sanders.
The 49ers were missing inside linebacker Patrick Willis (strained toe) and cornerback Chris Culliver (hamstring, shoulder). Rookie Chris Borland filled in for the All-Pro Willis and former Bronco Perrish Cox stepped in for Culliver, but they were out of sorts early.
It's a short turnaround for the Broncos as they host San Diego on Thursday night.