Percy Harvin puts Seahawks behind him, ready to make plays for Jets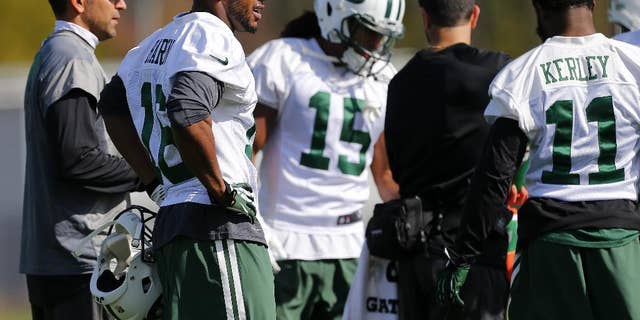 FLORHAM PARK, N.J. – Percy Harvin was asked if he was ready to make his debut Sunday with the New York Jets against the Buffalo Bills.
"Yes, sir," Harvin replied politely after practice Friday.
And does the talented but maligned wide receiver, acquired last week from the defending Super Bowl champion Seattle Seahawks for a conditional draft pick, expect to play much?
"Yes, sir," Harvin said again.
And then, he added: "In some way, I'll play."
As the Jets went through their final practice session at their facility before facing the Buffalo Bills on Sunday at MetLife Stadium, Harvin was looking more and more like someone who has turned the page on the old chapter of his football career and ready to begin a new one.
"I just love it here," Harvin said when asked about his departure from Seattle. "I'm loving the offense. I'm loving my teammates. I'm loving the whole atmosphere. I am a New York Jet now. Whatever happened is all in the past. This is not about the Seahawks anymore. I'm here now.
"This is what I'm about now."
There were some reports that suggested Harvin was a disruptive force in the Seattle's locker room, and the wide receiver acknowledged "incidents" with fellow wide receivers Golden Tate — before the Super Bowl — and Doug Baldwin.
"I'm not worried about it," Harvin said. "I'm looking at being here as being part of something special and help this team turn this thing around."
The Jets are 1-6 and have dropped six straight after a season-opening win over the Oakland Raiders. They were willing to take a chance on Harvin, even with the checkered past.
"To me, what's in the past is in the past," Jets coach Rex Ryan said. "If we're truly going to give the guy a fair shake, then you have to make this a brand-new situation. He's a young man who's getting the opportunity to come in here with a clean slate, and that's what he gets."
Ryan said Harvin will play, but it likely won't be a lot of playing time.
"I don't expect him to be out there for say, 50 plays," Ryan said. "But I expect him to play some. How much? We have to see. He's been working it like crazy to get up to speed as much as possible. Anyone who has that kind of ability has to get on the field."
Harvin has spent most of his first week with the Jets studying the team's offense.
"It's exciting to me, just learning the playbook," Harvin said. "I like challenges. I've been picking it up very well, but I still have a lot to learn. It's been a lot to learn, but the coaches are doing a great job of breaking it down for me. Physically, I'm fine.
"We'll have to wait and see where I play."
Harvin caught 22 passes for only 133 yards and no touchdowns in five games this season with Seattle. He acknowledged earlier in the week that he was a bit "frustrated" with how the Seahawks were using him, not making use of his speed to send him on deep routes.
"I don't care what people are saying about me," he said. "I have a whole lot of potential here and I'm trying to fit in and do my part. I'm focused on learning the plays. Come gametime, we will see what happens. Once I get the offense down pat, I'll be fine. It doesn't matter where I play — running back, wide receiver — I'm ready to go."
Ryan acknowledged that the Jets strongly considered taking Harvin in the 2009 NFL draft, but traded up to take quarterback Mark Sanchez instead.
"We did an extensive background check on Percy," Ryan said. "I think we know this player. He's an explosive athlete. That's what jumps out at you. We have an opportunity to put a lot of speed out there, guys who can flat-out run. Teams have to get the antenna out and recognize that."
Harvin's new Jets teammates have already embraced him as one of their own.
"Somebody texted me to tell me that we got him and I thought they were joking with me," linebacker Calvin Pace said. "Getting a guy of his caliber is going to help us. He seems like a great person. I'm excited he's here. He's going to make plays for us."
NOTES: LB Trevor Reilly (knee) and WR Greg Salas (ankle, wrist) were listed as questionable, but neither will play Sunday. WR Eric Decker (hamstring) and LB David Harris(shoulder) were limited in practice, but expected to play. ... Ryan acknowledged it was "a little strange" to prepare to face the Bills without their top RBs C.J. Spiller and Fred Jackson, both of whom are out with injuries. "But I think their running game is going to be similar. (Bryce) Brown has some kind of explosiveness, but is he in Spiller's class? I don't think so."
___
AP NFL website: www.pro32.ap.org and www.twitter.com/AP_NFL