Pens more concerned with momentum than seed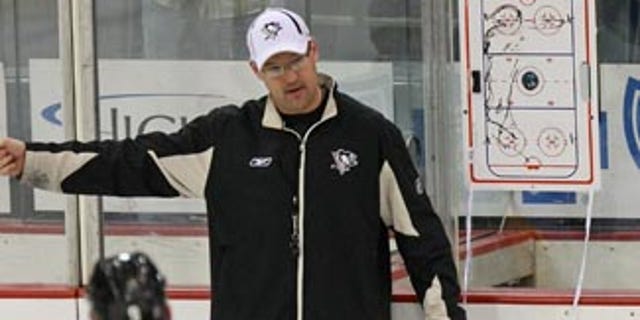 PITTSBURGH -- First in the conference, probably not. Fourth? Most likely. Fifth? They hope not.
The Pittsburgh Penguins go into their final three regular-season games knowing that, with a late-season rush and a lot of help, they could own home-ice advantage throughout the Eastern Conference playoffs. That wasn't considered likely when they began playing without injured stars Sidney Crosby and Evgeni Malkin several months ago.
The Penguins trail Atlantic Division leader Philadelphia and Southeast Division frontrunner Washington by three points, 103-100, after winning five of seven and seven of 10.
Conversely, a late-season slide as they face non-contenders New Jersey on Tuesday, the New York Islanders on Friday and Atlanta on Sunday could result in them losing the home-ice edge altogether. The Tampa Bay Lightning, 2-1 winners over the Penguins on Thursday, began the final six days of the season in fifth place in the conference, but trailing the Penguins by only one point, 100-99.
"Home ice is something big to play for," defenseman Brooks Orpik said Tuesday.
Given all the upsets in last season's playoffs, when seedings seemed irrelevant, maybe it doesn't matter. But for a team that is largely perceived around the League to be an overachiever -- weren't the Penguins supposed to be all about Crosby and Malkin? -- it would be a point of pride to finish strongly and achieve the highest-possible seed.
"Every game is big," center Jordan Staal said before the Penguins wrapped up their season series against the Devils, who will finish out of the postseason for the first time since 1996. "Definitely, at this time of the year, every two points can change a lot in the standings. You want to win every game and get the ball rolling coming into the playoffs."
No doubt the Penguins will be paying extra attention to the out-of-town scoreboard at Consol Energy Center when they meet the Devils, who won their last two against Pittsburgh after dropping the first three. Philadelphia plays at Ottawa and Washington travels to Toronto on Tuesday night.
"(It's) a big focus for our team, trying to get and maintain home ice," coach Dan Bylsma said. "Playing and playing well going into the playoffs is part of that. You want to have a clear understanding of how you're going to play and how you'll play as a team going into the playoffs. We haven't said we need to win all three games. (But) we know if we win all three games, we will hold home ice."
As Orpik said, "The Flyers won in a shootout on the last day (of the season a year ago) and they used that momentum going into the playoffs all the way to the Finals. I think it's good to be on top of your game."
The Penguins have remained remarkably consistent even during a distraction-filled season in which Staal, one of the NHL's best two-way forwards, was out until Jan. 1 with a pair of injuries; Crosby sustained a concussion that has sidelined him since Jan. 6; and Malkin, a past NHL scoring champion, underwent season-ending surgery after injuring his right knee Feb. 4.
They have lost more than three consecutive games only once, a four-game streak during a demanding stretch from Feb. 20-25 in which they lost once in a shootout and another time in overtime. Even while playing their last 26 games without both Crosby and Malkin, they were 12-10-4.
Dealing with so much adversity during the regular season could help them deal with the uncertainties and stress of the playoffs.
"We don't want to be taking any bad habits (into the playoffs), taking some shifts off," forward Pascal Dupuis said. "That's the way games are going to be played in the playoffs -- tight-checking games -- so that's how we're going to approach it all week."
If the Penguins meet the Lightning, the regular season probably won't be an indicator of how the playoff series will go. Pittsburgh won both games easily at home, 5-1 and 8-1, but lost twice in Tampa, 5-3 and 2-1.
If Crosby isn't ready for the first round, it will be a role reversal as the Lighting will feature the big-name forwards -- Steven Stamkos, Martin St. Louis and Vincent Lecavalier -- rather than the Penguins, who are accustomed to owning the edge in star power.
"It's obviously a different team that we usually faced the last few years," Staal said, referring to teams such as the Senators, Canadiens and Flyers. "They're an exciting team. They play a pretty mean trap, and they have a lot of skill up front. If we end up playing them it's going to be an interesting series."