Patriots owner Robert Kraft slams 'unjust' NFL after Brady drops Deflategate appeal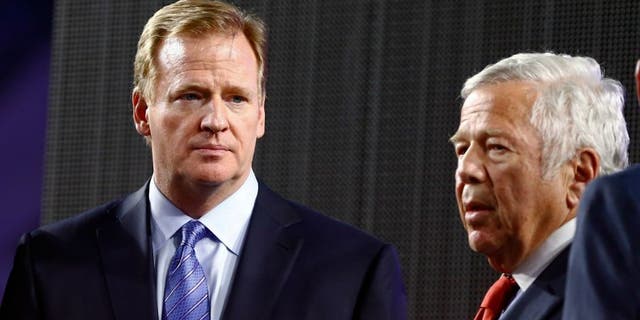 NEWYou can now listen to Fox News articles!
Tom Brady may have decided to drop his fight against the NFL and accept his four-game suspension for his role in Deflategate on Friday with the hopes of putting the long-protracted legal ordeal behind him.
But New England owner Robert Kraft still had something to say.
In a statement issued on Friday, the Patriots owner and CEO first said he was "disappointed" that the appeals court did not decide to rehear Brady's case. And then he proceeded to tear into the league, expressing his frustration that "Tom was denied his right to a fair and impartial process" and calling the NFL's four-game suspension "unprecedented, unjust and unreasonable."
"The League's investigation into a football pressure matter was flawed and biased from the start, and has been discredited nearly unanimously by accredited academics and scientists.
"The penalty imposed by the NFL was unprecedented, unjust and unreasonable, especially given that no empirical or direct evidence of any kind showed Tom did anything to violate League rules prior to, during or after the 2015 AFC Championship Game. What Tom has had to endure throughout this 18-month ordeal has been, in my opinion, as far removed from due process as you could ever expect in this country.
"From day one, I have believed in Tom and given him my unwavering support in his pursuit to rightfully clear his name of any wrongdoing. That support extends throughout our organization and has only grown more steadfast as the preponderance of scientific evidence has exonerated Tom. Unfortunately, this stopped being about air pressure a long time ago."
Kraft went on to state that the drawn-out Deflategate process "has indelibly taken a toll on our organization, our fans and most importantly, Tom Brady" before once again avowing to "unequivocally support" the Patriots quarterback and redirect their focus "on making the upcoming season a memorable one for all of our fans."