Paige VanZant scores submission win over Alex Chambers at UFC 191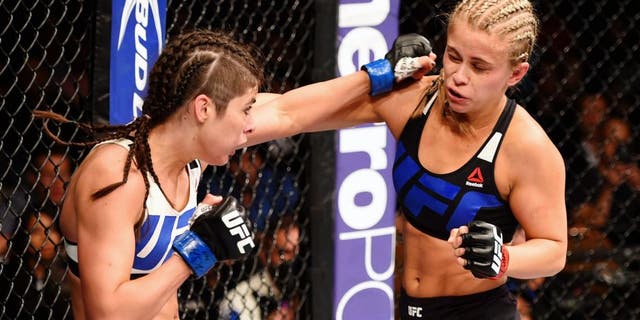 Strawweight Paige VanZant entered her UFC 191 main card contest Saturday against Alex Chambers the bigger and younger fighter and came away with a submission win at the 1:01 mark of the third round of their strawweight bout.
Being 15 years younger than her opponent didn't seem to be a factor for VanZant, but her size and strength certainly did against the natural atomweight Aussie.
From start to finish, Chambers appeared to have enough technique to defend but not enough size to get free from VanZant's grasp. Time and again, the 21-year-old rising star used a strong Thai plum clinch to control Chambers.
She peppered Chambers with knees, elbows and punches from there and eventually wore her down enough to finish her with a straight armbar from the mount.
"I'm really happy. I worked a lot of technique for this fight but it all went out the window," VanZant said afterwards.
In the first round, VanZant used the Thai plum clinch to move Chambers around. For her part, the American Top Team fighter used good body punch combinations when she couldn't get her posture back and neck free.
In the second round, VanZant went back to the clinch and began to land more often, with authority. She also showed good takedown defense to defend Chambers' solid attempts to get under her hips and drag her to the mat.
By the end of the second, "Astro Girl" was visibly hurt. After softening her up with strikes from the clinch, VanZant was able to drag Chambers to the mat.
At the start of the third round, VanZant marched straight into the clinch, once more, and was clipped twice with good punches. Still, she absorbed the blows and took Chambers down with a head drag.
From there, "12-Gauge" moved to secure a rear-naked choke. Chambers defended but gave up the mount in the process.
VanZant then used punches to open Chambers up, and when she extended her right arm, Paige snatched the limb and locked up the straight arm bar. The hold was true and the tap came soon after it was latched on.
"I was trying to avoid [the ground] but maybe I should have gone down a little earlier," VanZant said.
With the win, VanZant improves her record to 6-1. Chambers' loss dips her mark down to 4-3.