Padres' Weaver gets first crack at Braves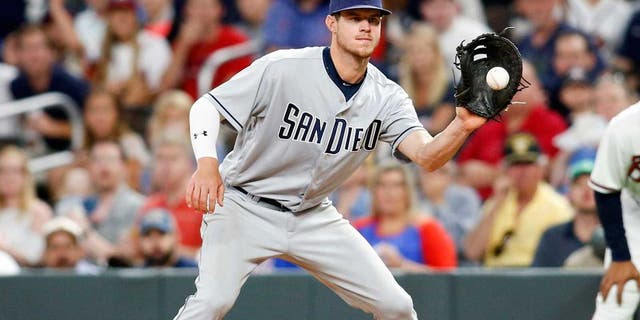 NEWYou can now listen to Fox News articles!
ATLANTA -- Jered Weaver pitched against all but one of the possible major league opponents during his 11 seasons with the Los Angeles Angels.
The exception was the Atlanta Braves, and Weaver will get that opportunity on Monday in his first season with San Diego as the Padres try to avoid a sweep in the opening four-game series at SunTrust Park.
Weaver signed with San Diego as a free agent over the winter. Although he got a no-decision Tuesday at Colorado, the 34-year-old right-hander turned in an uplifting outing in his second start with his new team.
Weaver allowed two bases-empty home runs but just one other hit in six innings. He didn't issue a walk while striking out five before being pulled for a pinch hitter.
"He was impressive in Colorado," Padres manager Andy Green said. "That's a tough place to pitch. He made two mistakes, but he pitched the way he always has to be successful.
"I thought it was a very encouraging outing for him. He could have easily gone seven or eight innings the way he was throwing the baseball."
San Diego (5-8) needs a well-pitched game because the Padres have been outscored 18-6 in the series as the Braves (5-6) stretched their winning streak to four games.
Weaver (0-1, 4.91 ERA) will be opposed by left-hander Jaime Garcia, who has a loss and a no-decision in two starts for the Braves after being acquired in a winter deal with St. Louis.
Garcia (0-1, 5.73 ERA) hasn't won since last August, going 0-6 with a 7.60 ERA in his past eight starts, but he fared well against the Padres while with St. Louis.
Garcia allowed one run over 5 2/3 innings in a victory over San Diego last season and is 2-1 with a 2.52 ERA in six career starts against the Padres.
Although Garcia lasted just five innings at Miami on Wednesday, the bullpen worked four scoreless innings behind him and the Braves rallied for a 5-4 victory that snapped a five-game losing streak.
"Every time I don't go more than six or seven innings, for me, I didn't get the job done," Garcia said. "The bullpen picked me up and we won the (Wednesday) game. Hopefully now we can get on a good roll here and continue to play good baseball."
Although Weaver has never faced Atlanta, two Braves have plenty of experience against him. Catcher Kurt Suzuki has a .291 average against him in 55 at-bats, and right fielder Nick Markakis, who has a 10-game hitting streak this season, is hitting .290 in 31 at-bats vs. the righty.
Weaver wasn't sharp in his first outing for the Padres, giving up two homers at Los Angeles as the Dodgers won 10-2. He bounced back against the Rockies, though.
"I was able to get some early strikes and try to get them to chase late," Weaver said. "A couple of bad pitches cost me, but overall I felt good."
Weaver will try to slow Braves second baseman Brandon Phillips, who is 5-for-12 with a homer and four RBIs in the first three games of the series.