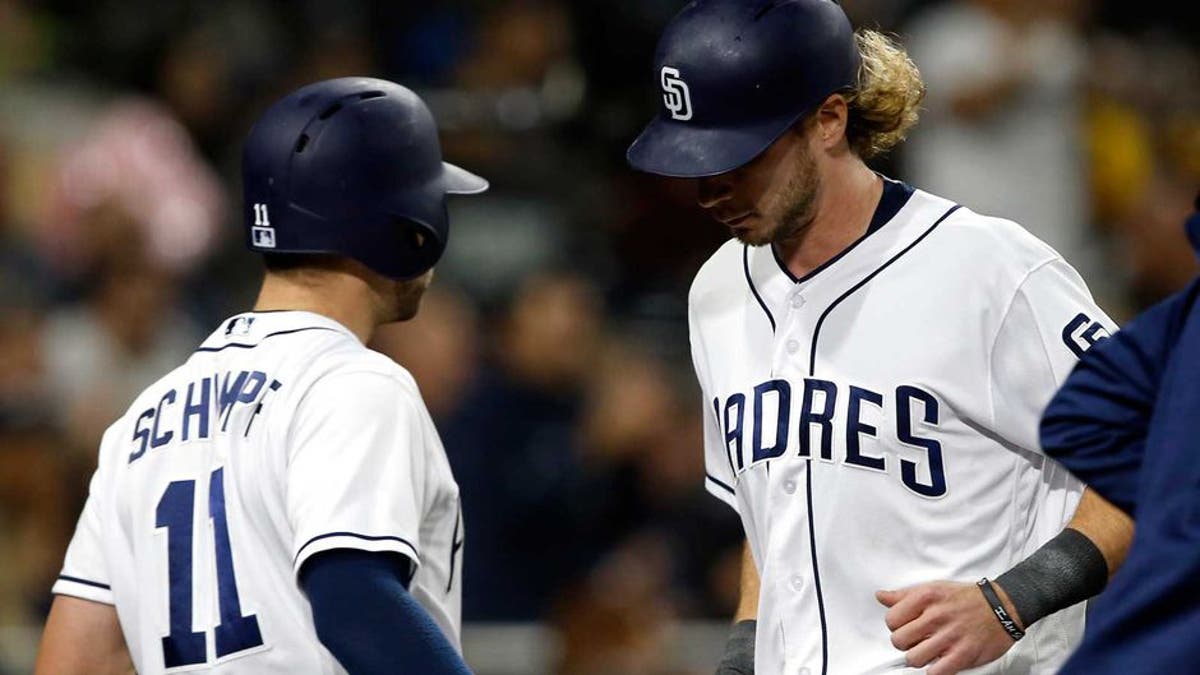 SAN DIEGO -- The Arizona Diamondbacks' Zack Greinke will take the mound against the San Diego Padres on Wednesday night. It is safe to say the hype machine is cranked down a few notches for this Greinke start.
The right-hander will look to rebound against Jhoulys Chacin, a foe with lesser credentials than Greinke's last opponent, the Los Angeles Dodgers' Clayton Kershaw.
Greinke, the other half of the powerful 1-2 punch atop the Dodgers' rotation for three years, scuffled against his former team on Friday. Los Angeles knocked him around for five runs in five innings, sending him to the showers before the Dodgers fans had a chance to leave early.
"I know his last outing he wasn't very happy with," Diamondbacks manager Torey Lovullo. "I know he is probably in there right now, looking at some video and trying to understand the Padres and what their approach is."
The Padres, who have lost five in a row, understand Greinke just fine: They have a hard time beating him.
Greinke (1-1, 4.32 ERA) always makes himself comfortable against San Diego. He is a nifty 8-1 against the Padres in 16 career starts, pitching to a 2.02 ERA while holding San Diego hitters to a .184 average. If Greinke wants to wash away the sour taste from his Los Angeles appearance, he is coming to the right place.
"I'm looking for him to bounce back, but for me it isn't a big issue," Lovullo said. "He threw the ball well enough (against the Dodgers). He just ran up against a really good pitcher that day who threw the ball better than he did."
For the high-priced Greinke, it was the second start in his three this year in which he didn't get more than 15 outs. But there is no chance Greinke would show any emotion, one way or the other.
"He's very stoic, and he doesn't play his hand very often," Lovullo said. "It was just business as usual for him."
The Braves gave Chacin the business the last time he took the mound. He surrendered eight runs, four hits and four walks in five innings in Atlanta. The Padres are asking him to get them back in the three-game series after dropping the opener 11-2 on Tuesday.
Padres manager Andy Green said Chacin, who is 5-3 lifetime against the Diamondbacks, lacked his control against the Braves.
"He's a guy that has to command the baseball," Green said. "He doesn't have overpowering stuff. He is a guy that has to locate and locate well. When he does that, he is really, really good. That has always been his challenge."
Chacin is making his fourth start of the season after signing as a free agent. He spent last year with the Braves and Los Angeles Angels, pitching to a combined 6-8 record with a 4.18 ERA.
"He has never been able to hump it up there and blow 93 (mph) by guys," Green said. "If he pitches from 89-91 and he locates, he is going to be really good."
The Padres are banking on it. Their rotation has taken some hits, with Luis Perdomo and Travis Cahill having to skip starts because of ailments.
Cahill is back and Perdomo is close. If Chacin can return close to his 2015 form that led to a career-high 14 wins, the Padres would be ecstatic.