Padres, Rangers set to begin home-and-home series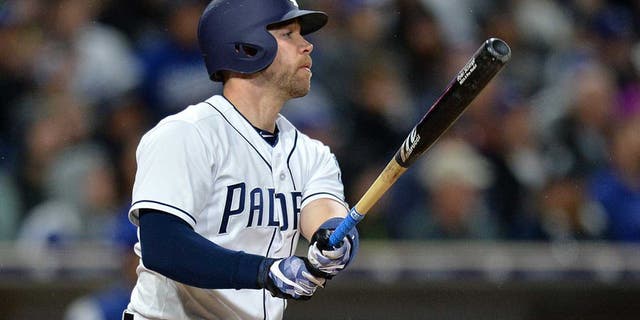 SAN DIEGO -- Fresh from an unexpected off day, the San Diego Padres face a strange foe: the Texas Rangers.
The teams start a four-game, home-and-home set on Monday at Petco Park.
The Padres' final game of their three-game series with the Los Angeles Dodgers was rained out on Sunday. It marked just the third rainout in Petco Park since it opened in 2004.
San Diego (12-20) is hoping the rain is gone and the black cloud that has been clinging to the Padres also exits once the Rangers arrive. The rebuilding Padres have looked every bit like an uneven club lately, losing four games in a row.
Meanwhile, the Rangers, the two-time defending American League West champion, are trying to rebound from a dismal start after falling to 13-19 with a 4-3 loss at Seattle on Sunday.
Texas has struggled offensively most of the season. The Rangers only scored eight runs over the weekend against the Mariners.
"We've got to find a way to move past and keep grinding," Texas manager Jeff Banister said. "Is it frustrating? Yes. We can look at different things. We can look at us 1-for-9 with runners in scoring position (Sunday). That's as much of a challenge as the (Rangers pitchers issuing six) walks."
It's one thing for the Padres, with an emphasis on youth and reaching .500 in a couple years, to be near the cellar.
The Rangers, though, entered this season possessing a win-now mentality with a team constructed to go deep into October. Instead, after injuries to ace Cole Hamels (oblique) and All-Star third baseman Adrian Beltre (calf), some are wondering if Texas is snake-bit.
"No, that's a loser's mentality," Rangers GM Jon Daniels told MLB.com. "This is baseball. These things happen. You prepare for them by building depth. Obviously, you don't snap your fingers and replace Cole Hamels."
Having Hamels out is disappointing to the Rangers and the numerous Hamels fans in the San Diego area. He went to nearby Rancho Bernardo High School and would have embraced pitching against the team he grew up cheering. He attended numerous games at Qualcomm Stadium, the Padres' former home, with stellar reliever Trevor Hoffman being among his favorites.
However, having Hamels out likely until July is another hill for the struggling Rangers to climb.
Still, Texas has an opportunity to right the ship in the next week thanks in part to interleague play.
After a pair of games in San Diego, they will entertain the Padres for two games starting on Wednesday. Then after a three-game home set with the Oakland A's, the Rangers resume interleague play with three against the Philadelphia Phillies.
That's 10 games against three teams well under .500.
Then again, those squads could be eying the Rangers and thinking the same thing -- although a lineup that features Rougned Odor, Nomar Mazara, Elvis Andrus and Joey Gallo can be difficult to navigate.
Trevor Cahill (2-2, 3.60) will face that challenge Monday, and it is a safe bet he will be packing his wipe out curveball. That pitch has seen his strikeout percentage climb to 30 percent this season, up from 17 percent in his career.
"His curveball has been outstanding, and he has great secondary pitches," Padres manager Andy Green said. "That is where his strength is."
Right-hander Nick Martinez (0-1, 4.91) gets the nod for the Rangers. Martinez, who has never faced the Padres, is 2-0 in interleague play with a 4.88 ERA.
Martinez took his first loss of the season Wednesday when he allowed seven runs -- six earned -- and nine hits in 5 1/3 innings of a 10-1 defeat to the Houston Astros.
Cahill is 9-4 with a 2.83 ERA in 16 career starts vs. Texas.