Padres look to avoid sweep from Cubs.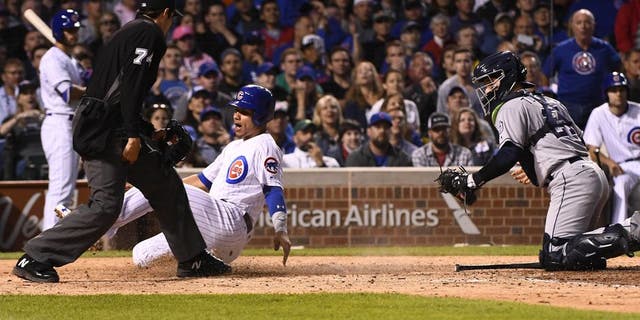 NEWYou can now listen to Fox News articles!
CHICAGO -- Rookie right hander Miguel Diaz is getting a baptism under fire this month as a San Diego Padres starting pitcher.
Diaz will make his 24th appearance of the season and third start in the finale of a three-game series with the Chicago Cubs on Wednesday afternoon.
"I don't think it's a long-term commitment to where he's in the rotation the entire season," said Padres manager Andy Green. "We like what this has afforded us the opportunity to do with him and work with him and hopeful that he makes more starts that are trending in the right direction.
"I'm sure every single time he takes the mound he gets more comfortable."
Diaz (1-1, 7.36 ERA) goes against Cubs right-hander Eddie Butler (3-2, 4.41 ERA).
So far, Diaz has had relatively short starts.
In last Friday's second start -- a 6-5 Padres loss at Milwaukee -- Diaz worked a season-high 3 1/3 innings and allowed four runs on five hits while striking out five and walking just one.
Diaz lasted just two innings in his debut start -- a 12-6 Padres interleague loss to the Kansas City Royals on June 10. He was pulled after just two innings after giving up just one hit and no runs.
"If he goes back to the bullpen it's no way an indictment on his future in the rotation, like he still has a chance to start for us," Green said. "He's a competitive kid, he just needs time. He needs opportunity."
Butler, meanwhile, will make his eighth start of the season and fifth at home. He hopes his current fill-in role with Bret Anderson and Kyle Hendricks might become a little more permanent.
He had a no-decision in last Friday's start at Pittsburgh, working 5 2/3 innings and giving up four earned runs on four hits while striking out none for the first time this season.
Butler has faced the Padres four times, including a May 30 start at San Diego when he gave up a season-high seven hits and six earned runs in the Cubs' 6-2 loss. He is 0-3 with a 7.41 ERA against Chicago in his career, including one relief appearance.
"You never know what pieces are going to become available and what teams are going to be selling and buying at the deadline," he told reporters. "Whatever it takes for us to get to our final goal of holding that trophy again at the end of the year."
Cubs first baseman Anthony RIzzo won't serve any suspension in the wake of Monday's home plate collision with Padres catcher Austin Hedges.
Hedges left the game with thigh bruise and he sat out Tuesday's middle game.
"Very hopeful for tomorrow, as the time progresses he feels better and better," said Green. "He had a deep thigh bruise, charley horse, basically when the knee went into his quad."
The Padres are off Thursday before opening a three-game weekend interleague series against Detroit. The Cubs have no break as they travel to Miami to start a four-game series, the first in an 11-game road trip.