Packers expect more production from ailing offense after bye week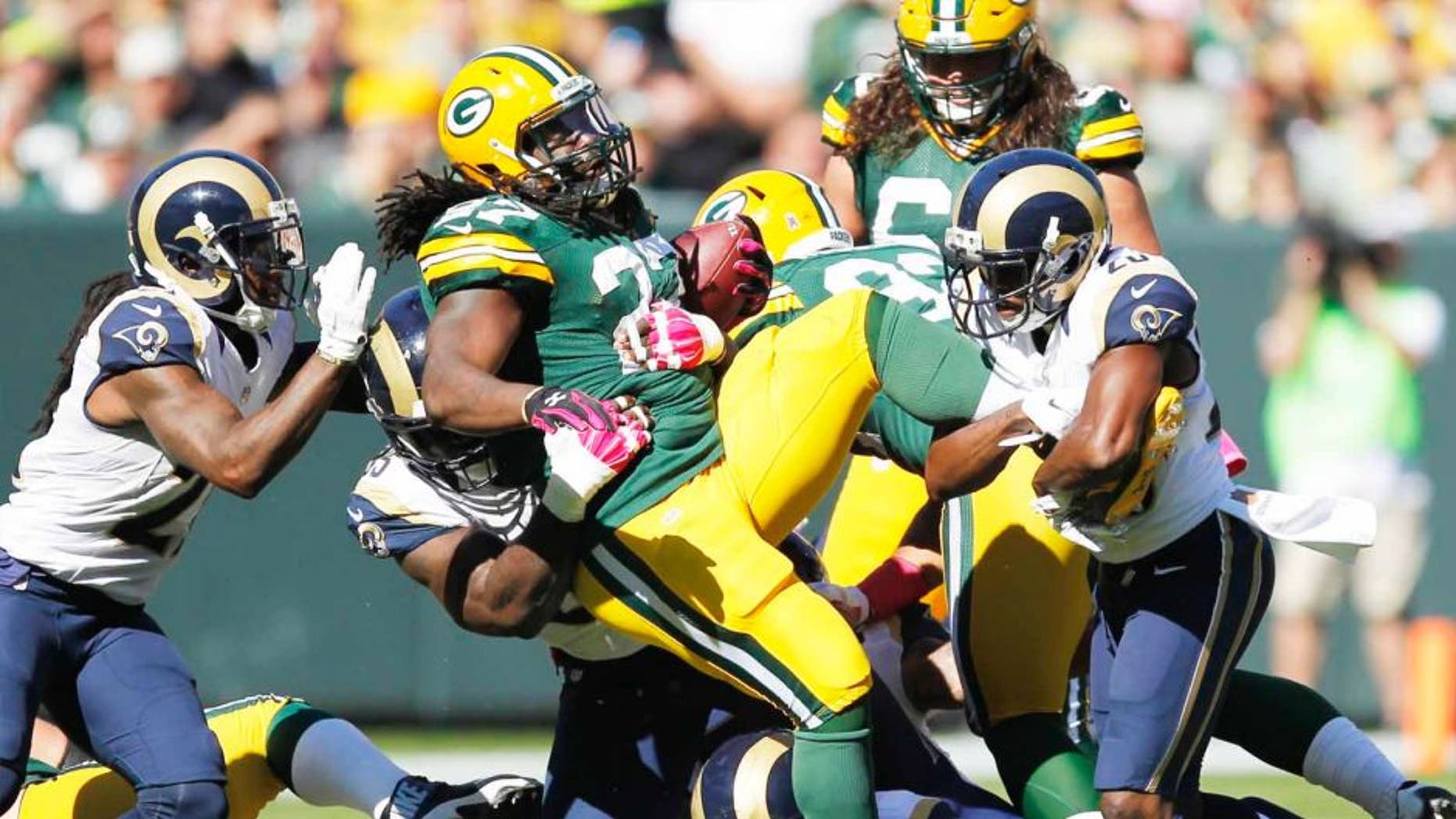 GREEN BAY, Wis. -- The Green Bay Packers are hoping a bye week helps them get over an offensive speed bump.
Injuries have played a key role, and the latest Packer dealing with one is running back James Starks, who got hurt during Green Bay's last game, a 27-20 win over San Diego on Oct. 18.
Coach Mike McCarthy said the nature of Starks' ailment would be released after practice Wednesday, when the Packers are first required to disclose their injury report.
Following last week's bye, McCarthy hopes Starks will make enough progress to play when the Packers have their showdown Sunday with the Denver Broncos.
Running back Eddie Lacy sprained his right ankle in Week 2, though he hasn't missed a game.
Starks ran for 112 yards on 10 carries against the Chargers, starting for Lacy, who finished with 3 yards on four carries.
Lacy said he wasn't limited in the Chargers game, and understood why McCarthy stuck with Starks because he was running well.
"Well, he looks good, just watching him work out and watching his work Monday," McCarthy said Wednesday before practice. "Particularly in the individual stuff, that's where you try to really stress each position, so I don't think the injury is affecting him anymore."
Otherwise, Lacy is off to a slow start, though that's not necessarily unusual for the third-year back:
--Lacy hasn't rushed for a touchdown since the season opener against Chicago. He has 260 yards on the season on 67 carries, averaging 3.9 yards a carry.
--Last year through six games, Lacy had 306 yards on 80 carries, averaging 3.8 yards an attempt. He finished with 1,139 yards for that season on 246 carries, averaging 4.6 yards.
Lacy tends to finish strong. McCarthy in part thinks more production will come about from more opportunities.
"No. 1, we're not running enough plays," McCarthy said. "We need more attempts at the plate. Sixty plays a game, that's not what we're looking for."
McCarthy likes the run-pass balance, but would also like more volume.
Here's where the injury bug has played a role, though, beyond Lacy. The Packers' best deep threat, Jordy Nelson, was lost for the year during the preseason with a torn right ACL. Defenses are focusing on slowing down Lacy and pressing the team's other top receivers, who are also dealing with nagging injuries, Randall Cobb (shoulder) and James Jones (hamstring).
The bye week gave receiver Davante Adams more time to get over a sprained ankle. Getting him back would give Aaron Rodgers another potent weapon, which could in turn help open up the running game.
"We need more attempts in the run game, but we need more total plays. We need to be in the 70s," McCarthy said.