Ovechkin leading by example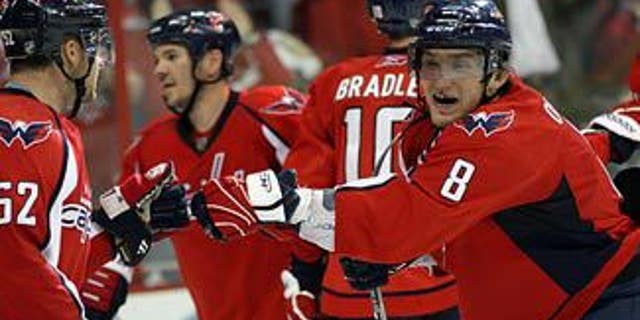 ARLINGTON, Va. -- There was a moment in the third period Friday night during Game 2 of this Eastern Conference quarterfinal series that may best describe the changes Alex Ovechkin has made in his commitment to deliver a Stanley Cup to the city of Washington.
His linemates, Nicklas Backstrom and Mike Knuble, had the puck pinned in the left corner of the offensive zone and Ovechkin was perched near the slot waiting for it to potentially pop out of there.
As he waited for the scrum to dissolve, the Capitals captain did something that would have been entirely out of character for him in previous seasons -- he turned and sprinted for the bench.
"It was the end of the shift and they controlled the puck. It is better to have a third guy that is fresher than me so I just go and change," Ovechkin said. "I think it was just a regular moment in the game."
He may have downplayed the decision, but his teammates certainly noticed it. In the past Ovechkin has rarely, if ever, passed up a chance to participate with the puck in the offensive zone.
Not only did he willingly give up on the play, he hustled to the bench like he was chasing down the puck for a potential breakaway. Those few seconds might come to define "the new Alex Ovechkin."
"I think that shows, not taking away from his competitiveness and being the guy who wants to score the goals, but I think that is showing his character and his commitment to winning right now," Matt Hendricks said. "He knows he plays a lot of minutes and he plays a very active role on the team, probably the most active role of anyone in our room right now, and he's a physical guy so he needs to get his rest and not overextend himself on those shifts. I think he's learning and this a time of year where he's saying, 'Hey, I'm here to win and I'm going to do anything to get it done."
Added Knuble: "It is leading by example. That is something we talk about and you need your captain to do that at the right times. There's nothing going there and offensively there's not a good chance, but we're in an advantageous position kind of kicking it around in the corner. That's as good a chance as any to change, especially since he has the long change from the left wall. I guess that is one small example of doing things properly."
The Capitals have always been able to do the "big things" but there have been times when the "little things" dragged them down in previous seasons. Capitals coach Bruce Boudreau has had to remind his star players about managing their shift times on several occasions each season.
Ovechkin's average shift length can often be misleading because he will stay out for a full two-minute power play if he's on the point. That said, he averaged 51 seconds per shift in Game 2, which when the long shifts from 4:52 of extra-man time is subtracted is pretty much spot on for what Boudreau is looking for.
"He's maturing for sure," Matt Bradley said. "It just shows that our whole team is buying into the system and part of that is short shifts at the right time. All of our guys have done it from our best player in [Ovechkin] down to the last guy."
There are still some lapses in Ovechkin's defensive commitment. He reverts back to previous form and coasts into the defensive zone every now and then, but not nearly as much as he used to.
He's also doing a better job of covering his area of the ice once he's set up in the defensive zone. There's no better way to show his improvement than to compare his work in these two games against the Rangers to the opening minutes of Game 5 against Montreal last season when he was on the ice for both of the Canadiens' goals in a 2-1 loss.
Late in Montreal's second-round series with Pittsburgh, Michael Cammalleri was holding court with reporters in the visiting dressing room at Mellon Arena when he offered a frank assessment of how his team had survived the top-seeded Capitals. Cammalleri said he thought his team had lost the belief that it could pull off the upset after Game 4, but the team scored a couple of quick goals in Game 5 and that belief returned.
The Canadiens' commitment to playing stout defense and blocking shots returned, and they helped Jaroslav Halak hold the top-ranked offense to three goals in the final three games of that series. Those two early goals in Game 5 against Washington came from essentially the same spot on the ice -- and from the area Ovechkin is expected to defend.
"I think the last couple years when we got the lead we thought the series was done," Ovechkin said. "It seemed like the team was a little bit calm and a little bit relaxing and they played much better than us and they win the series. Right now we stay focused and right now this team is different. That kind of experience the last couple years has helped."
The Capitals still count on Ovechkin to shoulder a lot of the responsibility at the offensive end, and they still need him to be a physical force (he has 12 hits in two games). But Ovechkin's commitment to details like short shifts and correct defensive positioning might have as big an impact on his teammates as a great goal or a huge hit does.
"He's playing his heart out. He's playing like our leader and our captain," Knuble said. "He's had some good chances and he's shooting a lot. They'll start going in more -- we're not worried about that. He's leading by example and playing at both ends of the rink and doing the things we talk about day in and day out. He's showing that he's listening."
Added Bradley: "We definitely notice stuff like that, but that's winning hockey. To win you have to have everyone buy in and right now everyone is buying in. That's what we need."