Orioles' Trey Mancini is so hot his teammates are homering with his bat, too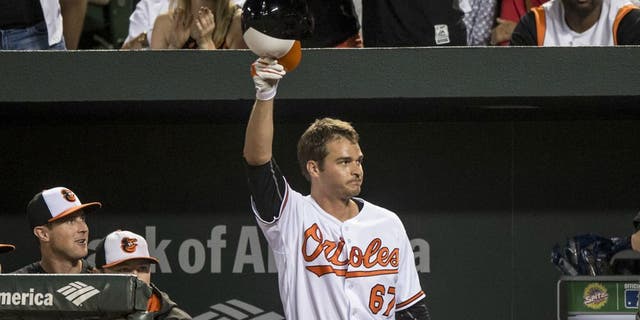 On Sunday, Baltimore Orioles rookie first baseman hit his third and fourth home runs of the young season and seventh of his career which, combined with the three he hit in '16, gives Mancini 7 homers through his first 12 games and a share of the all-time MLB record for a player's first dozen.
Maybe it'sthe water in Baltimore or the ballpark or their the players' willingness to share, because after the game, manager Buck Showaltershed some light on Mancini's torrid start and player interest in the 25-year-old'sLouisville Slugger C243. Via MLB.com's Dhiren Mahiban:
"So Trey hits his second home run and Gentry grabs his bat and says, 'I'm going to give that bat a try' [and he] hits a home run. Manny says, 'You know what? Give me that bat' and Manny hit a home run so all of them with Mancini's bat -- I've never seen that before.
Kim Klement-USA TODAY Sports
Those three homers all came in the eighth inning at Toronto. The home run was Gentry's first of the year and Machado's second.
"When you're ahead like that, you're trying to be respectful of the opposition and not have too much fun, but that one was," Showalter added. "I just went, 'Really?'"
Considering how most baseball players and fans are so superstitious, it's a bit of a surprise that Mancini lent out his lumber.Or maybe it's just Mancini's swing.
Let's ship that puppy over the National League East and see if Bartolo Colon can put another one out with it and if so, check the thing for magic and/or cork.